A Son's Story: Discovering a Father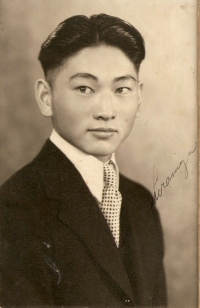 Mel Mikio Shiramizu grew up in a small house in Colorado where his father's picture hung on the wall – honored and remembered – but surrounded by silence. The trauma of his father's death had been so painful that his grandparents never spoke of him, ever, nor did his mother Ruth, who never remarried. His father, Kiyoshi Jimmie Shiramizu, a medic in the 100th Infantry Battalion, had died in Italy when Mel was two years old. Mel would grow up never knowing his father, like a number of other children whose fathers were killed while serving in the 100th Battalion. "Nobody said much about him, so I just supposed he died for no reason," said Mel.
He never thought of going to Hawaii to find someone who knew his father because he had always heard the Japanese soldiers from Hawaii, known as Buddhaheads, didn't like kotonks (slang for mainland-born Japanese). Mel assumed that they wouldn't like him either. With no other sources available in the small Japanese community in his Colorado hometown, he gave up. By the 1970s, he had reconciled himself that he would never know more about his father. "I suppose I missed my dad," Mel said sadly. "I just didn't know any better."
Sumi Iwata, one of Mel's aunts, was nine when Mel was born in 1942. She remembers her older brother Jimmie, who was born on February 1, 1919, as "very handsome." He was the second child of seven children. She didn't know him very well because when she was still a young girl, Jimmie left the small farm in Salinas, California where the family eked out a living as tenant farmers. "We were dirt poor. We grew vegetables and I worked out in the fields with my brothers and sisters. Jimmie left for Los Angeles as soon as he could. He disliked farming. He wanted to better himself."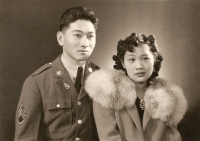 The next time Sumi saw her brother was only for a short time, when he married Ruth. Then came the December 7, 1941 attack on Pearl Harbor, followed by the United States declaring war on Japan. Mel was born and Jimmie, who had been drafted in July 1941, was sent to Texas for training and then to Camp McCoy. In "Unlikely Liberators: The Men of the 100th and 442nd," Masayo Duus mentions that Shiramizu was one of four mainland-born Japanese who joined the 100th Battalion in Wisconsin.
In the meantime, the family was forcibly removed to the rodeo grounds in Salinas and kept in horse stalls until the internment camp in Posten, Arizona was ready. "All I remember from that time as a young girl was being forced to carry everything in suitcases," said Sumi. She remembers the plywood and tar paper barracks, the desert wind that blew the dust through chinks in the wall and up through the thin floor and the way she, her parents, her sister-in-law and young Mel lived in the dust and dirt. Even today, it is hard for her to describe the memory of the painful moment when word came to their barracks that her brother had been killed.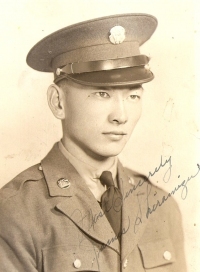 On January 10, 1944 near Presenzano, Italy, Shiramizu had volunteered to help rescue some wounded men from B Company. As a Tech Sergeant, his normal place was at the battalion aid station which was much safer. But the unit was critically short of medics. He was caught in a deadly mortar barrage and seriously wounded in the abdomen. He died four days later.
The family retreated into silence. They moved from the camp to Colorado when the war ended and worked to rebuild their lives. Mel had two uncles who tried to fill in for his dad when they could, but they had their own families. There was no lack of attention though. "Mel's grandparents, mother, aunt Rose and I doted on him," according to Sumi.
A bright student, Mel graduated from Dartmouth and had a successful career as a computer manufacturing engineer. He never married and six years ago, at age 63, he developed Multiple System Atrophy (MSA), a degenerative disease similar to Parkinson's disease, causing him to lose some of his motor skills. Although he had stopped thinking about his father, Jimmie's presence was always somewhere in the back of his mind.
Then one day in 2009, Mel was in the waiting room of a doctor's office and noticed an elderly man wearing a 100th Infantry Battalion cap. Mel, who is a very shy person, found himself asking the stranger if he had been in the 100th. The man, Sam Terasaki, said yes and Mel replied that his father had also fought with the battalion. Terasaki asked Mel for his father's name and called that night to tell him that Kiyoshi Shiramizu was mentioned in the book "Combat Chaplain" by Israel Yost, who had been the battalion's chaplain.