Outside the home, the Nisei pledged allegiance to the American flag, learned the Declaration of Independence and were exposed to the richness of Hawaii's diverse cultures. They could hum and sing popular American songs, ate hot dogs and foods from other cultures, and played a variety of sports in the warm climate of Hawaii.
With war raging in Europe, the Selective Training and Service Act — America's first peacetime draft — was established in 1940. It required males between the ages of 18 and 65 to register for selective service and initially conscripted all males between the ages of 21 and 36 for a service period of 12 months. The law was subsequently amended, with the ages changed to 18 to 45 and the service period extended to 18 months. If war was declared, the service period was to last the duration of the war, which inevitably happened to many of the men who would serve in the 100th.
By early 1941, several thousand men in the Islands had been drafted and assigned to the 298th and 299th Infantry Regiments of the federalized Hawaii National Guard. Just over half of the draftees were of Japanese ancestry. The young men soon learned that their military service would be limited to the Army only, for enlistment in the Air Force, Marine, Navy and Coast Guard was closed to them.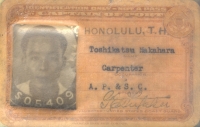 Everyone's life changed dramatically after Japan's attack on Pearl Harbor on the morning of December 7, 1941. Within hours of the bombing, Hawaii was placed under martial law. Chaos ensued. Fear and suspicion of the local Japanese community grew unchecked, and in some communities, neighbors, colleagues and friends turned on each other.
"FBI men came to our house and roughed up our father," said a decorated veteran, recalling how his hard-working, merchant father was treated. "I had to restrain myself from roughing them up, too."
The FBI also began rounding up Buddhist and Shinto priests and even a few Christian ministers, Japanese language school principals and teachers, business and civic leaders, fishermen, martial arts instructors and other Japanese community leaders. Ironically, it was the Japanese language schools that had always emphasized respect and loyalty to America.
In the anti-Japanese hysteria that engulfed the Islands, Japanese families shut the doors of their Buddhist and Shinto shrines and hid them away; some even destroyed these symbols of their faith. They burned generations-old family kimono, pictures and other precious heirlooms.
Unlike the continental United States, where 120,000 Japanese Americans were uprooted and imprisoned in desolate inland camps, Hawaii escaped mass incarceration. Some from Hawaii were interned, however — 1,875 were sent to camps on the Mainland and another 1,466 were held in small camps on several islands.  Practical economics demanded that Hawaii's large Japanese community remain in the Islands to work the plantations and farms to produce food and perform other defense-related labor for the military.
"I didn't have rifle training, so we did dirty work . . . putting up barbed wire, handling acid, painting and so on," said a highly decorated Nisei veteran.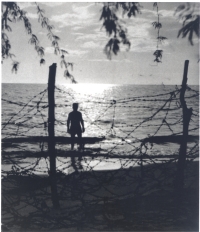 Still, rumors of a Japanese invasion were rampant. A Honolulu newspaper carried a headline a day after the attack: "Saboteurs Land on Oahu." A rumor quickly spread that a downed Japanese pilot was wearing a McKinley High School class ring when captured, only intensifying hostility against Nisei students who made up the majority of the school's student body. A pall fell over the local Japanese community: "What will happen to us?" became a common concern.
Through it all, some military brass in Hawaii, including Lieutenant General Walter Short, did not question the loyalty of the Nisei soldiers when concerns were raised about Japanese Americans in the National Guard, many of whom had already served a year. In the days and weeks after the bombing of Pearl Harbor, the men had dug ditches and guarded beaches, ready and willing to take on any invading force. They were also anxious to demonstrate their loyalty by performing larger tasks.
In March 1942, the U.S. government ordered that Japanese Americans be classified as "enemy aliens" and no longer eligible for the draft. The next month, General Delos Emmons of the Army's Hawaiian Department sent a confidential memo to the U.S. War Department in Washington, D.C., informing it that an estimated 2,000 soldiers of Japanese ancestry wished to demonstrate their loyalty to America.
By late May 1942, the Japanese Americans soldiers in the 298th and 299th Infantry regiments of the Hawaii National Guard and some Army engineer units had been summoned to Schofield Barracks, where their weapons were confiscated. They were separated from their non-Japanese fellow soldiers and organized into an all-Japanese unit called the Hawaiian Provisional Infantry Battalion which would be designated the 100th Infantry Battalion after it reached Oakland, California. The men were told that they would be sailing overseas to an unknown destination and that they should tell no one.
However, as the battalion moved by train from Schofield Barracks in the countryside to Honolulu Harbor in the city, they saw friends and family members lining the railroad tracks, waving good-bye and wishing them well. Some came bearing lei or gifts for the men. They encouraged them to do their best. The men, most having come from homes where duty and haji (shame) were important values, understood their underlying message: "Do not bring shame unto the family." "Fight hard for your country, even if it means sacrificing your life."
The Nisei men who served in the 100th Infantry Battalion were products of a complex, multicultural society and a cultural heritage that emphasized loyalty and duty.  Years of labor on farms and plantations and participation in sports such as swimming, boxing, judo, baseball, and football had made them physically strong despite their small stature.
In many respects, they were also "diamonds in the rough.'" Within their ranks were writers, poets, artists, teachers and university professors, legislators, lawyers and judges, engineers, doctors, skilled tradesmen, and owners of businesses whose gifts and talents would be realized many years later.
They went into combat with brothers and cousins, neighbors, and schoolmates whom they could not let down. All of these factors would contribute to the 100th Infantry Battalion being regarded as one of the finest combat units of World War II.
–by Thelma Chang
Thelma Chang is the author of "I Can Never Forget: Men of the 100th/442nd," which was published in 1991.