100TH BATTALION TO MILITARY INTELLIGENCE SERVICE LINGUIST
"Anybody Can Shoot One Rifle, But Not Everybody Can Speak Japanese"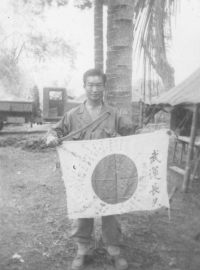 In November and December 1942, about 60 soldiers left Camp McCoy, Wisconsin, for the Military Intelligence Service Language School (MISLS) at Camp Savage, Minnesota. For most of them, it was their first winter in snow. The GIs were Japanese Americans from Hawaii, members of the 100th Infantry Battalion.
One of them was Yukitaka "Terry" Mizutari, a Hilo High graduate who was a clerk with C. Brewer and Co. when he was inducted into the U.S. Army on November 12, 1941, three weeks before Japan's attack on Pearl Harbor. Mizutari was one of hundreds of young Island men who had been drafted as America prepared to be dragged into the war that was already raging on so many fronts.
Japan's December 7, 1941, attack on Hawaii changed everything. Mizutari's father, a Japanese school principal and kendo sensei (teacher), was arrested. He was one of roughly 2,000 Japanese in Hawaii who were uprooted and sent to internment camps on the Mainland. Meanwhile, Terry Mizutari was among more than a thousand Japanese Americans in uniform in Hawaii who were now suspect because of their ancestry, despite their being Nisei — second generation Japanese who were American by birth. These men were removed from their units and placed in a racially segregated unit that eventually became the 100th Infantry Battalion and were shipped to Wisconsin, where they trained while the U.S. War Department pondered what to do with them.
Meanwhile, a handful of Japanese American GIs who were early graduates of the MIS Language School in San Francisco became the first Nisei to see combat in World War II, on Guadalcanal, where they demonstrated the value of battlefield linguists. These Nisei were able to translate enemy communications and documents and interrogate enemy prisoners of war (POWs) on the spot.
That success prompted urgent calls for more language specialists to be trained at the MIS Language School, which had relocated to Camp Savage on the outskirts of Minneapolis, Minnesota. Recruiters from the MISLS combed relocation centers and sought out other Nisei on the Mainland, including those members of the 100th who were fluent in Japanese. Several dozen volunteered from the 100th. Others, like Herbert Miyasaki, had no choice. The storekeeper's son from Paauilo on the Big Island of Hawaii had attended college in Japan. One day, Miyasaki was summoned by his company commander, Jack Mizuha, who informed Miyasaki that he would be going with the MIS group.
"I don't want to go," protested Miyasaki, who wanted to stay with his buddies. Mizuha replied, "No, it's an order. Anybody can shoot one rifle, but not everybody can speak Japanese. You can do more good up there than down here." So Miyasaki became a member of the December 1942 MIS class at Camp Savage. Other students volunteered from relocation centers or were found among prewar inductees.
The men from the 100th impressed Camp Savage with their sharp soldiering. "We are delighted with them and the excellent example they are setting our various detachments," wrote Colonel Kai Rasmussen, the language school commandant. To many of the thousands of Nisei from Hawaii who would follow them into the MIS, the former 100th Battalion men and others of that benchmark class came to be known as senpai gumi, "the mentors group," or, more accurately, the pioneers.
The students were grouped according to their proficiency in Japanese and English. On weekdays, they went to class from 8 a.m. to 4 p.m., exercised and drilled, ate supper and returned to class from 7 to 9 in the evening. On Saturdays, the students were tested on all of the material that had been covered in the preceding week. After lights-out on Fridays, it was hard to find an empty stall in the latrine, as the more conscientious students stayed up late to study.
After the class graduated in June 1943, many were sent to the South Pacific and Australia, usually in small detachments. Among them was Terry Mizutari, whose assignments in the Pacific included Australia and New Britain. By June 1944, Mizutari was a technical sergeant and head of the 6th Infantry Division language team at Maffin Bay, New Guinea. One night during the fierce Battle of Lone Tree Hill, Mizutari was killed by an enemy bullet while defending the division command post from attack. He earned a posthumous Silver Star, becoming the first MIS Nisei to be killed in action.
Another senpai gumi was Hoichi "Bob" Kubo, who earned the Distinguished Service Cross, America's second-highest award for heroism, while serving with the 27th Infantry Division on Saipan. The island had been secured after heavy combat, but many enemy holdouts remained at large. Kubo entered a cliffside cave alone to face a group of desperate Japanese soldiers who were holding more than 100 civilians captive.
Over the next two hours, Kubo shared his rations with the enemy soldiers and conversed with them. He told them that his grandfathers had served in Japan's elite 5th and 6th divisions in the Russo-Japanese War. Kubo said his parents were Japanese, like theirs, but his country was America and theirs was Japan. He quoted a classic Japanese proverb to explain that he owed his higher loyalty to his country. In the end, the civilians were released and eight or nine Japanese soldiers surrendered.