IV. Senator
Shortly after two o'clock in the afternoon of Tuesday, January 4, 1977, Spark Matsunaga was sworn in as a United States Senator to fulfill a dream, he told supporters "I have had since I was a junior at Kauai High School."
Sparky immediately threw in his lot with Senator Robert Byrd, Democrat of West Virginia, who asked for Sparky's support in his bid to become majority leader. Sparky said he and Byrd were compatible in political outlook and shared a keen interest in parliamentary procedures. "Both of us," he said, "came from blue collar, rural backgrounds, struggled for an education, were attorneys and entered politics as members of our state legislatures."
In return, Byrd appointed Sparky chief deputy whip, the third ranking position in party leadership, for two reasons: "He was an experienced legislator and he was always loyal to me." Sparky and the regional whips provided the Majority Leader with a tally on issues before the Senate, then sought to persuade undecided senators on which way to vote.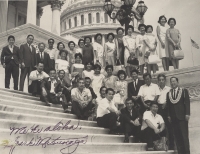 An early priority for Sparky was to establish working relations with Senator Daniel K. Inouye, the leader of the Hawaii delegation. Sparky and Danny, as they were often referred to in Hawaii, were quite different. Sparky came from remote Kauai, Danny from the main island of Oahu. Sparky's family had been mired in poverty, Danny's had risen to the middle class as his father was an office worker. Sparky was in the Army before Pearl Harbor, Danny was a high school boy when World War II broke out. Sparky was a commissioned officer through the ROTC and served in the 100th Infantry Battalion. Danny enlisted at the age of 18, was assigned to the 442nd Regimental Combat Team, and earned a battlefield commission. Both were wounded, Danny much more severely in losing his right arm. Both were lawyers, worked as assistant district attorneys, and went into politics at the same time. But here was a marked difference: Sparky was an outsider while Danny was in the inner circle. Sparky made his way despite the Democratic machine, Danny because of it. Sparky, a gregarious man, got things done through personal popularity. Danny, a more reserved man, evinced a master's grasp of the levers of power.
Institutional imperatives made working together difficult because the Senate is the only place in American politics where two politicians share a constituency. There is one governor of a state or one mayor of a city and one representative in Congress for each electoral district. But two Senators vie for the same votes and support—and money. Senator Inouye, asked in an interview whether he and Sparky had been competitive, replied: "Absolutely." He said they managed the rivalry by having Sparky assigned to different committees and looking after different issues. Senator Inouye said the contention was often more fierce between their staffs and he occasionally had to rein in his and suggest to Sparky that he do the same. "Altogether," said an aide who knew them both, "they worked with each other reasonably well but they were not so close that they'd go out and have a beer together after work."
While Sparky kept a low profile as a freshman senator, he was not reluctant to speak up. "Sparky was an extrovert but not an exhibitionist," said a Senate observer. "He looked like he enjoyed the job where most them of walk around as if they had the weight of the world on their shoulders." Another aide said: "One of Sparky's strengths was that he did not speak on every issue. He was a workhorse who could get a lot done by letting someone else take credit."
When President Ronald Reagan was elected and the Republicans took control of the Senate in 1981, Sparky was in near shock. "I never expected anything like this," he told a reporter. He lamented: "I've never been in the minority before, even way back when I was in the state and territorial legislature."
Even so, Sparky kept his sense of humor. When General Alexander Haig was up for confirmation as Secretary of State, Sparky voted for him reluctantly. Later, Sparky went to a reception at the White House for a visiting prime minister from Japan. As he passed through the receiving line, Secretary Haig welcomed Sparky and asked if he spoke English. Sparky, with a straight face, replied: "Yes, Mr. Secretary, I do—and I had the honor of voting for your confirmation the other day."
When Sparky ran for reelection, he would jump on a plane from Washington to Honolulu on Thursday afternoon to address audiences on Friday and Saturday despite jet lag. "I go to bed shortly before midnight," he lamented, "and yet at 2:30 this morning, I was wide awake—and you can't know how frustrating it is for a politician in an election year to be wide awake and all alone with no one around to shake hands with."
Sparky's second term got off to a grand start when he won re-election with 82 percent of the vote, a thundering landslide. When he returned to the Senate, Senator Byrd sauntered over to say: "Well, Sparky, I see you won by 82 percent." Sparky allowed as how he had, whereupon Byrd, referring to Sparky's reputation for entertaining constituents, said: "Well, it seems to me you have yet to take 18 percent of Hawaii's population for lunch."
During this term, Sparky advocated the joint exploration of space with the Russians and, as an amateur poet, was pleased when his call for a Poet Laureate became a reality. He promoted programs for veterans and continued to seek curbs on the power of the president to send the U.S. to war. He called for equal rights for women, for better education, better health care, improved social security, and, as he grew older, for assistance to the aging. Sparky defended the volunteer military force, failed to have established a Department of Peace, but succeeded in having chartered an academy of conflict resolution. He argued for arms control, for new forms of energy, and for safe disposal of nuclear waste. He fought a losing battle to save Hawaii's sugar industry that was no longer competitive and was equally attentive to issues that concerned Asian- Americans. On the negative side, Sparky more often opposed measures than he had in the past because he disagreed with the Republican majority.
Then, in April 1988, there erupted in the Senate the sort of political struggle that can only occur in a robust democracy. At issue was an apology and a payment of $20,000 to each of the Japanese-American citizens and resident aliens who had been torn from their homes and jobs to be incarcerated in bleak camps during World War II.
Leading the Senators who favored "redress" was Senator Matsunaga, while the opposition was led by the daunting Senator Jesse Helms, Republican of North Carolina. At one point during the fierce debate, Helms sought to link the imprisonment of the Japanese-Americans to Japan's surprise attack on Pearl Harbor on December 7, 1941. Matsunaga responded in cold fury that "Japanese-Americans had nothing to do with that act" and contended that Helms would "obscure this distinction." An amendment Helms offered was voted down 91-4. Even so, Helms pressed the attack and was supported by Republicans such as Strom Thurmond of South Carolina and John Warner of Virginia.
Matsunaga, however, had done his homework. Said Senator John Glenn, the astronaut and Democrat from Ohio: "I do not believe that, in the 13 years I have been in the Senate, I have ever seen anyone pursue a particular piece of legislation, buttonhole Senators more effectively, call on them in their offices, make certain he had their support for a particular piece of legislation and do that job as well as Senator Spark Matsunaga."
Equally important was support from Republicans led by Senator Robert Dole of Kansas, the Minority Leader and later presidential candidate. Senator Alan Simpson of Wyoming spoke of a distressing visit he had made as a Boy Scout to a "Jap camp" during the war. Senator Kassebaum said she would vote for redress even though "I just do not believe that money can buy atonement."
Right before the vote, Senator Matsunaga, displayed his mastery of parliamentary procedure by persuading the Senate to replace S. 1009, a non-descript title, with the House version of the bill, H.R. 442, a magic number for Japanese-Americans who recalled the heroics of the 442nd Regimental Combat Team in World War II. The bill passed 69 to 27, a solid victory that was veto-proof.
This was the culminating achievement in Sparky's political life and illuminated his sense of equity, his persistence and art of persuasion, and his abhorrence of discrimination. His political toil also underscored the way in which his fundamental American nature was flavored with the culture of Japan. He and his allies were motivated by the American sense of fair play and they applied time-tested American lobbying to advance their cause. But Sparky's political tactics also resembled the nemawashi, meaning "thorough preparation," of his forefathers. Behind the scenes, he sought out all 99 Senators to persuade them one by one to vote for his proposal. Much of his success could be attributed to the personal relations he had cultivated over the years.
Redress, however, was more than seeking an apology and compensation. Representative Norman Mineta, a California Democrat, summed it up: "Redress was not a Japanese-American issue to Spark. It was not an Asian-American issue. It was an American issue, which is how he wished the lessons of the internment to be remembered." Moreover, Leslie T. Hatamiya echoed that thought in her excellent 1993 book, "Righting a Wrong: Japanese-Americans and the Passage of the Civil Liberties Act of 1988." Hatamiya, a sansei or third generation Japanese American whose grandparents and parents had been interned, wrote: "The issue was 'all-American,' touching the fundamental pillars of the U.S. Constitution, notably the Fifth Amendment guarantee of due process."
A week after the Senate vote, the House passed the bill 257-156. On August 10, 1988, President Reagan signed it into law. H.R. 442 had been adopted without appropriated funds but Senator Inouye, a senior member of the Appropriations Committee, led a successful effort to get funds. In a ceremony at the Justice Department on October 9, 1990, the first payment of $20,000 was made to a 107-year old survivor of the camps, the Reverend Mamoru Eto of Los Angeles. From then until August 8, 1998, when the program ended, 81,970 Japanese-Americans received checks for redress.
Unhappily, Sparky did not live to see it.
V. Legacy
In 1988, Sparky became gravely ill. He was first diagnosed with prostate cancer. Then he fell downstairs at home and broke his leg and two ribs. In another accident, he broke his right arm. Over the summer of 1989, Sparky's health continued to deteriorate and in midwinter of 1990 the cancer spread to his bones. His voice was so weak he could barely talk, perhaps most frustrating for a man who had loved the spoken word. Some thought Sparky should resign but Senator Inouye defended him: "After 40 years of public service, I think he's entitled to some sick leave."
As the end came closer, Sparky went to the Senate in a wheelchair to vote for the Clear Air bill. He was so weak he could not speak but signaled his vote with a thumbs-up. It was his last vote in the United States Senate, and many senators seemed to sense that as they gathered around Sparky to shake his hand or pat him on the shoulder before he was wheeled out of the chamber.
Several days later, Sparky was driven in a van to a private clinic in Toronto, a grueling eight-hour trip that was a desperate, last-minute effort to save him. A doctor there had experimented with alternative ways to treat cancer that Sparky wanted to try. But it was to no avail. Sparky was transferred to a hospital and died there early in the morning of April 15, Easter Sunday.
Sparky's remains were flown back to Honolulu to be met by an honor guard from the 100th Infantry Battalion, now a reserve unit. Several days later, the political, business, labor, academic, and civic leaders of Hawaii and hundreds of ordinary folks turned out for Sparky's funeral, including many of his aging comrades from the 100th Battalion.
From Washington came an outpouring of respect. Senator Christopher Dodd, Democrat of Connecticut, paid Sparky perhaps the highest compliment: "I would suggest that we can pay no higher tribute to Sparky Matsunaga as senators and as a Senate than to be more like him, to listen to one another more carefully, to be more patient with one another, to be more understanding, to work for the common good, and maybe most important of all, to be better friends to one another. In all the years I served with Spark Matsunaga, 10 years here in the Senate, two or three years in the House of Representatives, I never heard Spark Matsunaga ever say an unkind word about another human being, colleague, official, or anyone."
After a lifetime of public service, Sparky left behind a legacy as a warrior and a peacemaker, as a poet and a patriot. Most of all, the quality of Spark Masayuki Matsunaga that stands out was his civility to high and low, to friend and foe, in the corridors and chambers of Congress and before an audience of working men and women in Hawaii.
Civility was rare during his time and even more rare today.
This essay was drawn from a book entitled: "Sparky: Warrior, Peacemaker, Poet, Patriot" by Richard Halloran, an honorary member of the 100th Infantry Battalion Veterans association. He was formerly a correspondent in Asia and Washington DC for The New York Times.