From Kauai to Congress, He Served Hawaii and America
I. Civility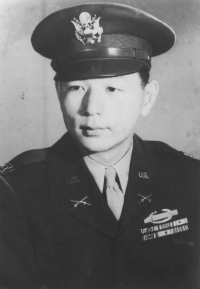 When Sparky Matsunaga was a high school boy on Kauai in the 1930s, a civics teacher, Robert Clopton, pulled him aside one day to say he might think about going into politics if he wanted to put an end to racial discrimination. Clopton said Hawaii would become a state someday and Sparky should aim at becoming a U.S. Senator. "Boy," Sparky exclaimed afterward, "he really put the bug in my ear."
Forty-five years later, Spark Masayuki Matsunaga, son of a Japanese immigrant and dirt poor plantation worker on the remote island of Kauai, was sworn into the United States Senate. This was a high point in a lifetime of public service that began when Sparky enrolled in the University of Hawaii in 1937 and joined the Reserve Officers Training Corps (ROTC). He was commissioned in the Army in June 1941, served in the National Guard's 299th Infantry Regiment, joined the 100th Infantry Battalion in 1942, and was wounded in action in Italy the following year.
Politically, Sparky was engaged in the Democratic Revolution of 1954 when Japanese-American veterans won control of the state legislature and in the struggle for statehood, which came about in 1959. He was elected to the U.S. House of Representatives in 1962, served there for 14 years, and was then elected to the U.S. Senate in 1976, where he served for another 14 years. Even though he represented a small state and the newest in the Union, Sparky was successful, for two reasons: The founding fathers intended that the voice and vote of a senator from a small state would be equal to that of a senator from a big state. Just as important were Sparky's personality and political skills. He was often effective just because people liked him.
Sparky died of cancer in office in 1990 and was buried on a hillside in the serene and sacred National Cemetery of the Pacific (Punchbowl). A simple headstone identified him as a "Beloved Son of Hawaii" and a deluge of tributes in Washington and Hawaii emphasized his civility. Senator Nancy Kassebaum, a Republican from Kansas, perhaps said it best: "Spark was a man who believed that reconciliation was more important that confrontation, that friendship should moderate partisanship, that reason should balance appeals to emotion. He not only believed in these high ideals, he lived by them. In doing so, he assured that his own life and his long, productive career of public service would always stand as his most eloquent and lasting tribute."
II. Kauai to Washington.
On Kauai in 1915, a Japanese immigrant named Kingoro Matsunaga married a widow with four children, Chiyono Ikeda. Their son, Masayuki, was born a year later and grew up in poverty. He acquired the name Sparky when he was eight after an older boy teased him for running last in races down a dusty road. "Hey, you slower than ol' Sparky, the nag," the boy chortled; Sparky was a hapless horse in a comic strip. The name stuck and later Sparky had his name legally changed to Spark. "With a name like Masayuki," he said, "I couldn't have been elected dogcatcher."
After high school, Sparky desperately wanted to go to college but his family could not afford the annual tuition of $120 at the University of Hawaii (UH) so he worked in a store as a clerk. Four years later, he won a $1000 prize for selling newspaper subscriptions. He gave his parents $600 and took a packet boat to Honolulu to enroll at UH. As clouds of war with Japan gathered in 1941, an Army officer advised ROTC cadet Matsunaga: "To erase any suspicions, I would volunteer for service so they wouldn't be able to question my loyalty."
Sparky took that advice. Thus Second Lieutenant Matsunaga was acting company commander on Molokai on Sunday, December 7, when the Japanese struck Pearl Harbor. As dark smoke billowed up 60 miles away, Sparky handed out rifles and posted the company's 117 soldiers to guard beaches and the airfield.
Over the next several months, the US government debated what to do with Japanese-Americans soldiers and finally, in May 1942, formed them into an infantry battalion to be organized and equipped as a combat unit. The battalion, designated the 100th Infantry Battalion on arrival in Oakland, California, was sent to Camp McCoy, Wisconsin, for training. In September 1943, the 100th landed in southern Italy to fight the German army. Sparky, now executive officer of D Company, was wounded in November by landmines on Hill 600 and evacuated to a field hospital.
After he recovered and returned to the U.S., Sparky was assigned to Fort Snelling in Minnesota and, at the suggestion of officials in the War Relocation Authority (WRA), asked to give speeches about how Japanese-Americans had gone into battle and died for America. The WRA was responsible for resettling the Japanese-Americans who had been incarcerated during the war. In Milwaukee, for instance, Sparky told an audience the 100th Battalion fought "because they had to prove that they were worthy to be called American." Altogether, he claimed later, he gave 800 speeches in eight months, which he appears to have thoroughly enjoyed and which prepared him for politics.
When the war was over, Sparky left the Army, met and married Helene Tokunaga, and was admitted to the Harvard Law School. In May 1950, while still in law school, he was invited to testify on statehood before a Congressional committee. In an emotional appeal, Sparky said: "The granting of immediate statehood to Hawaii will mean the full and final recognition of the great sacrifices we made in answer to our country's call." As he finished, the Associated Press reported, "Many in the audience were in tears."
When Sparky returned to Honolulu, he dived into politics but was not in the inner circle of the Japanese-American veterans who got control of Hawaii's Democratic Party in 1954. Even so, he was elected to the state legislature with the second highest number of votes. After statehood was granted in 1959, Sparky ran for lieutenant government but lost by a narrow margin. Ever the optimist, Sparky said he would run for office again: "The test of a man is not that he shall rise but that he shall fall and rise again."
It was the only election he ever lost.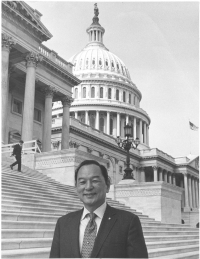 III. Representative
Sparky sat quietly toward the rear of the House of Representatives watching the flowery rituals as Congress opened in January 1963. His was the only Asian face in a sea of white faces, with a half-dozen African-Americans and Hispanic-Americans sprinkled through the House. Yet he had been well-received even by colleagues from the South where racial segregation was still practiced and was elected president of the incoming class of 36 Democrats and 31 Republicans.
Sparky immediately began forging a pattern of work habits. Top priority went to constituent services, whether it was a tour of the Capitol, straightening out a visa problem, or interceding with Selective Service. His custom of taking voters to lunch began when he treated a couple from Maui for lunch and a brief tour of the Capitol. As they parted, the visitor said: "Sparky, you know I work for Maui Pineapple 40 years. And 40 years I pay Uncle Sam taxes, and he no give me back nothing. But I no grumble. Uncle Sam today pay me all back."
Next priority was legislation; Sparky thrived on the give and take on the floor where he established himself as an orator in a fraternity that loves words. In the bills he introduced he sought to open immigration but to restrict migrant workers, to cut taxes, to defend foreign aid, to promote veterans benefits. And everywhere, Sparky fought for civil rights and against discrimination. Sparky relished his work on the Rules Committee, the heart of the legislative process to which he had been appointed by Speaker John McCormack. Sparky was widely seen as the speaker's faithful lieutenant.
Amid the turbulence of the 1960s, Sparky was ambivalent about America's involvement in Vietnam. Sparky seemed to think the war was not worth the sacrifice in blood and treasure but did not relish undercutting soldiers on the battlefield. Thus he glumly supported the war out of loyalty to President Lyndon Baines Johnson. In contrast, Sparky was enthusiastic about President Johnson's legislative program called the Great Society that was intended to eliminate poverty. He supported a drive for greater civil rights, fighting racism and discrimination whenever it came up.
When the Democratic-controlled Congress reconvened in January, 1969, the election of Republican Richard Nixon as president produced a divided government. Representative Carl Albert of Oklahoma became Speaker and made Sparky a deputy whip to help rally Democratic members to the leadership's banner. That, along with his place on the Rules Committee and later on the Democratic Policy Steering Committee, cemented Sparky's place in the House leadership.
Sparky didn't much care for Nixon ideologically or personally, although a colleague said "he tried not to let it show in public." After Nixon resigned in 1974 to escape impeachment, Representative Gerald R. Ford, Republican of Michigan and Minority Leader of the House, whom Sparky liked and respected despite their political differences, succeeded to the presidency.
Nixon's presidency, however, freed Sparky from loyalty to President Johnson over Vietnam. He soon denounced Nixon, raised the cry of racism in U.S. policy, and was outspoken in seeking to end the draft. He backed voting rights for 18-year-olds, "because they have earned the right to vote by bearing the responsibilities of citizenship," a reference to military service.
In civil rights, Sparky led the struggle to repeal the McCarran Act that allowed the government to detain citizens on suspicion of disloyalty. And when a White House lawyer, John Wilson, referred to Senator Daniel K. Inouye, Hawaii's senior senator, as a "little Jap" in a Congressional hearing, Sparky hit the ceiling. The next day, he recited Senator Inouye's war record, noting that "in defense of America and its citizens, including Mr. Wilson, Senator Inouye literally gave up his right arm."
After Senator Hiram Fong said he would retire in 1976, Sparky chose the home of the 100th Infantry Battalion Veterans to announce that he would run for the Senate. He competed with Representative Patsy Mink in the Democratic primary in which he won, 75,889 votes to Mink's 58,547. In the main bout, the Republican candidate, former Governor William Quinn, ran a lackluster campaign, acknowledging: "I never really put out any heat against him."
Thus, Sparky won easily, his 162,300 votes being 32 percent more than the 122,700 for Quinn.