First Lieutenant Walter M. Iwasa
An Oral History Interview conducted by his daughter Chris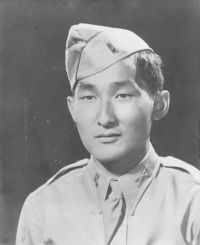 Walter Iwasa's oral history starts with his recollections of December 7, 1941 when the naval bases at Pearl Harbor and Hickam Airfield on the island of Oahu, Territory of Hawaii, were attacked by Japan.
His story is unique for several reasons. At the time of the attack, he was a student at the University of Hawaii, a member of the ROTC, and a reservist with the Hawaii Territorial Guard. On January 19, 1942, reservists of Japanese ancestry were discharged from duty without explanation. The following month, on February 23, the Varsity Victory Volunteers group was founded. Iwasa joined the VVV whose members worked at a variety of heavy labor jobs to help the war effort.
On January 31, 1943, the Varsity Victory Volunteers requested the deactivation of their unit so its members could enlist in the newly formed 442nd Regimental Combat Team. Iwasa joined the 442nd and was among the first soldiers who were sent as replacements to the 100th Infantry Battalion which was severely depleted after five months of combat in Italy.
Another aspect of his family history is interesting. In the family's possession is a Warrant of Arrest issued on December 7, 1941 for Iwasa's father, Sueji, and a record of a hearing at Fort Shafter dated December 19, 1941. Among the information it included was that he had been arrested "two or three times by the military police at Schofield Barracks near gunpowder magazines and the shooting ranges…" It also states that relatives defended him as being a "somnambulist, and suffering from mental diseases."
In March 1943, Sueji Iwasa was shipped to the mainland United States. A handwritten note lists the places he was sent to: Fort Dill in Oklahoma, Camp Livingston in Louisiana, Missoula, Montana, the Jerome Relocation Camp in Arkansas, the Amache Relocation Camp in Colorado and finally to Seattle, Washington in November 1944 where he boarded a ship back to Hawaii. In his oral history Iwasa recalls the emotional visits he had with his father while he was training and also after he returned from the combat zone and was recovering from an illness.
Read Walter Iwasa's Oral History interview
Note: The interview was done in 1985, but was not transcribed until 2018, many years after Mr. Iwasa had passed away, so some words could not be clarified.
Go to Walter's photos/bio page