B Company
Walter Michinori Iwasa was born Michio Iwasa in the 9 ½ plantation camp on the island of Hawaii on December 7, 1919. His father Sueji Iwasa, born in 1889, was the youngest of five sons and had left his family's farm in Fukuoka, Japan to seek his fortune in Hawaii. Sueji's mother hoped that "fude de taberu," that is, he would earn a living with his head and not by manual labor. By the time he was joined by Kimiyo Soda, in a marriage arranged in Japan, he was a labor contractor. They both worked long hours.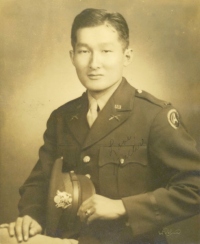 Walter was the fourth child. His three older sisters had died in infancy, and his parents rejoiced that he survived. The next change in their lives occurred when Sueji's brother-in-law found a business opportunity on Oahu. This was a general store near the U.S. Army base, Schofield Barracks. Leilehua Store enjoyed a booming business with the soldiers from the base. The hours were long, and the store was open every day. Payday was especially lucrative for the brother-in-law who operated a tattoo parlor next to the store.
Walter's mother recollected that he was a quiet boy. Perhaps he knew how to stay out of her way. She may not have known that the boy threw green papayas at the birds' nests to disturb them. Maybe she didn't know about the time he stole pineapples from the fields and sold them, cut up, in front of the store to the soldiers.
His father expected him, as the eldest son, to take over the family business. Had he followed his own inclinations, he might have become a firefighter or a dentist. He was also a joker, a photographer, and competitive at games. As it was, he went to the University of Hawaii and majored in business administration. He was also an ROTC cadet and would reach the rank of 2nd lieutenant at the time of World War II. On the day of the surprise attack on Pearl Harbor (his birthday), he was polishing his car preparing to take Michino Ichioka to church on a date. Instead, he heard the news and reported for duty. That is where the oral history begins.
Read Walter's oral history page
After the war, Walter took over Leilehua Store which was on Kamehameha Highway in Wahiawa. His daughters recall that at the entrance were display shelves with comics and nobody was allowed to linger and read them except them as the children of the owner. Eventually, the store was closed and the space subdivided into Yoneda Paint Supply and Iwasa Finance Co., Ltd.
Walter died on March 12, 2002 and is interred at the National Memorial Cemetery of the Pacific (Punchbowl), along with many of his 100th Infantry Battalion comrades.
(Submitted by his daughters Chris and Marianne, March 2019.)