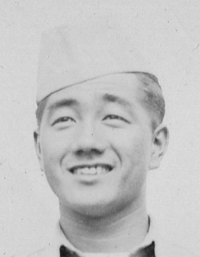 Isao Nadamoto entered the Army on November 28, 1941. Assigned to the 298th Infantry of the Hawaii National Guard, he was stationed at Schofield Barracks on the island of Oahu. Nadamoto recorded his experiences from January 25, 1942 – July 31, 1942 in a small 4"x 5" diary. In it he noted that his height was 5'2" and his weight 121 pounds.
The entries from January 25 to May 28 mostly described activities such as training on various weapons, installing barbed wire fencing, building gun emplacements, and guard and K.P. duty. He was assigned to guard duty on the eastern shore of Oahu. During this period, there was still fear of an invasion by Japan. Nadamoto also described purchases he made at the PX for family and friends as merchandise was limited in the regular stores.
On May 29, the situation changed when the soldiers were notified that "Japanese boys" were being sent to the mainland. The transcription of his diary covers the dates from May 29 – July 31. After being notified that the battalion was shipping out, Nadamoto recorded his preparations before he left, including visiting family and friends. He described his daily activities on the ship and after landing in Oakland, California, the long train ride to Camp McCoy, Wisconsin. He recorded the names of many small towns on this journey.
For the months covered in this diary, the soldiers lived in tents. Nadamoto wrote of the daily routines which included drills, marches, instruction on weapons, combat techniques, and map reading. He also described his visits to neighboring towns and Chicago and noted his expenses.
Among the men he mentioned were his fellow Company B comrades: Fred Kanemura, James Komatsu, Richard Oguro, Yutaka Nezu, Shizue (Bob) Takashige, Toshio Kawamoto, Tokuji Ono, Hachiru Shikamura, Yukio Yokota, James Shintaku, Harold Sugiyama, Msaso Hatanaka, Richard Yamada, Frances Shinohara, Choriki Shimabuku, Haruo Doi and Kewpie (Tom Tsubota).
Additional notes: Ichi and Iwa were his brothers Ichiro and Iwao. He used the acronym CKC several times which stood for "Cotton Khaki Clothing." It seems to have originated with soldiers in Hawaii. The 100th stayed at Camp McCoy until January 6, 1943 when they left for Camp Shelby, Mississippi.
Isao Nadamoto Diary Transcription (PDF)