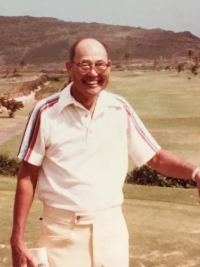 Gary Uchida was an original member of the 100th Infantry Battalion. Born on the island of Kauai, he moved to Honolulu to go to high school but left before he graduated to take a job at the Halekulani Hotel where he was working when he was drafted in 1941.
Encouraged by his children, Uchida began to write his memoirs when he was in his seventies, during the 1980s. He wrote of his childhood growing up poor with his widowed mother and four siblings and included detailed memories of the Japanese community and its families. He also wrote of his years at the Halekulani Hotel, remembering many of his fellow colleagues and the guests that regularly returned to the hotel.
Uchida also wrote of his experiences after he was drafted – the battalion's journey across the United States for training in Wisconsin, Louisiana and Mississippi and then combat in Italy where he was wounded. He described his treatments in several medical facilities before he was sent back to Hawaii and honorably discharged. This memoir "An American Soldier" is about these years.
About two years after he wrote the memoirs, his daughters Vicki and Jan transcribed them.
Gary Uchida – Early Life and Pre-War Years (PDF)
View Gary Uchida Photo Collection
The Memoirs of Gary Uchida: An American Soldier
By the spring of 1932, most high school seniors like myself must have started thinking about their plans for the following fall. Whether to continue to the University of Hawaii or join the work force was a big decision. As for me, U.H. was out of the question as the cost was beyond my reach. My only alternative was to join the others, thousands of them, to look for work.
The whole country, Hawaii no exception, was in the midst of a deep Depression. Jobs were scarce. I could go back to the cannery at least for the summer. At the end of the summer when many students go to the University, the job situation might get better.
It was in April when I called into Mr. O'Neill's office. He was the placement director. He said the Halekulani Hotel had an immediate opening for a front office clerk. It meant leaving school two months prior to graduation but I could return for night school and receive my diploma. "Would I be interested?" He consented to give me a day to consider. After weighing the whole employment situation, I agreed to go for an interview. I could take the job if offered to me, until I could get a civil service job. My desire was to be a court reporter.
My first full-time job was front office clerk. Already working there in the office were: Joseph Ho, chief clerk on the day shift, Mickey Nakahara on swing shift. He also had a room in this building to answer phones after the midnight closing hour. He was a cheer leader at McKinley High School, a year ahead of me. There was another day clerk whose name I do not remember.
Charlie Chang was the head night clerk. University student Henry Hu was also on night shift. Mickey, another clerk and I were on the swing shift from 5 – 12 midnight – two weekdays and one weeknight.
Bookkeeper was Walter Crandall, a bachelor and retired banker, from Wichita, Kansas. He was born in Hardwick, Vermont. While visiting Hawaii and a guest of Halekulani, he was offered the job by Clifford Kimball.
(Added note: during the subsequent years, Uchida was given room and board plus more responsibilities, including doing stenographer work for Mr. Kimball, and increasing compensation. He was able to save enough to buy a house. His brother Walter was also hired.)
Greetings from Uncle Sam
On June 30, 1941 I was called in to service. It was the third draft. My co-worker Mickey Nakahara had preceded me in an earlier call. Mr. Kimball, who was not well, came out from his cottage in his robe to say goodbye and gave me a watch as a remembrance.
After goodbyes to family and friends, the new inductees were transferred to Schofield Barracks. The first order of business after arriving there was being outfitted in G.I. uniform, oversize trousers and shirts, oversize shoes, cap, etc. and a G.I. haircut. What a change. Army life was highly regimented – yes, sir, no sir, fall in, fall out, by the numbers, "Hut, two three, four, at ease," etc.
Boom Town
Every so often, we had to perform work such as latrine duty, K.P., guard duty. We were required to memorize the General Orders in order to go on guard duty.
For three months, we draftees underwent the basic training. Besides the drills, we learned the nomenclature operation of the Winchester Caliber '30 rifle and the Browning Automatic rifle. We each had to strip and reassemble these weapons blindfolded. Hikes into the hills with full field pack and combat packs were common. During the training period, the draftees lived in a tent city which we called Boom Town.
After basic training, we were assigned to various companies of the 298th Regiment which was made up of former National Guardsmen, the earlier draftees. Our Regimental Commanding Officer was Colonel Andersen. His Executive Officer was Lieutenant Colonel Farrant Turner and the Plans and Training Officer was Captain James Lovell.
I was assigned to H Company which is the heavy weapons company. Our primary weapons were the light and heavy machine guns and the 81mm mortar.
Occasional maneuvers were held in the 298th defense sector which extended from Waimanalo to the China Man's Hat. H Company sector was the Kailua and Kaneohe area. In one of these maneuvers I was an 81mm ammunitions carrier and followed the 81mm crew wherever they went. It was a backbreaking task. Another time I was with a heavy machine gun crew and dug a nest on Kailua Beach near Lanikai. Our biggest enemy that night was the swarm of mosquitos. The mosquito repellant oil of citronella was ineffective.
Clifford Kimball dies during this period of our training. I was greatly saddened by his passing as he gave me my first job out of high school.
School and Schofield
Four soldiers from the battalion were selected to go to school each Friday. School was conducted by Major Lovell. The purpose of the school was to teach us map and compass reading, Oahu's trails, especially those leading from Wahiawa over the mountains to the ocean in the Waikona area. We had plans to take trips over these trails, but they were cancelled after the war broke out.
Bombing of Pearl Harbor
The Army must have sensed something imminent because on Thursday, December 4, 1941, our regiment was alerted. When the bugler sounds "alert" all the G.Is., no matter what they are doing or where they are, rush back to camp, don their uniform, get their arms, fill water in the canteen, get their packs, and fall in. Those in town on passes are notified by radio, those in theaters are notified on the screens. Everyone is running.
We were soon trucked to our defense sector, Kailua area, and took positions. We were not, however, given live ammunition. The next day, Friday, I was driven back to Schofield to attend our regular school. Major Lovell, our instructor, gave the four of us a weekend pass. The next day, December 6, was Saturday.
December 7th
Early Sunday morning, I drove to Kapahulu to see my tenants, the Rohrs. It was a beautiful day, with only a few cars on the road. When I reached my destination, Mrs. Rohr excitedly said, "What are you doing here? You should be at Schofield." "What is the matter?" I asked. Just then the radio blared out: "This is the Real McCoy. This is no practice." As I looked at the skies over Pearl Harbor, I could see puffs of black anti-aircraft bursts. Practice shells emit white smoke. The radio continued to blare that Japan has bombed Pearl Harbor.
I immediately rushed to the hotel and got a ride from Richard Kimball to the Army and Navy YMCA in town.
Pearl Harbor
Army transportation was available there to Schofield. There was no H1 freeway during that time and all traffic had to go to Kam Highway which winds its way near the waters of Pearl Harbor. As we approached Pearl Harbor, we could see the whole area engulfed in black smoke, punctuated by orange flames. The attacking planes had already left, but we could hear occasional explosions of ammunition. Finally, I fully realized that we were at war. Approaching Schofield, we could see Wheeler Field where planes and hangars were in flames.
The battalion area was practically deserted as the men alerted three days ago were still in our defense area. Soon I found a ride to our H Company area in Kailua.
My first duty was to secure an observation post with one or two others. We climbed almost to the top of Mount Olomana. Because the top was occasionally shrouded with clouds or fog, we went further down towards Kailua Town and looked at Mount Puu o Ehu which wasn't too high, but we got sweeping views of Kailua Town and the beach. A powerful Battery Command Scope used by the artillery outfit was made available to us.
Our duties were to report to battalion headquarters all sightings of planes (the type, elevation, direction, distance, time, etc.), boats, blackout violations, and any unusual activities. Our work became routine. All this time we had no idea how our family and friends on the outside were faring.
Recalled to Schofield
Sometime in May of 1942, all members of our outfit of Japanese ancestry were recalled to Schofield. There was great speculation as to what the Army had planned for us. There were questions among the Army brass of our loyalty. Of course, we AJAs knew in our hearts where our loyalty lays, as this was the land of our birth, and we would defend it at any cost, no matter who the invaders might be.
On May 30, Colonel Andersen was ordered by the General to form a Hawaiian Provisional Infantry Battalion comprising of all the AJAs. Colonel Turner, Hilo-born kamaaina, requested to lead the new battalion. He asked his Plans and Training Officer, Captain Lovell, to be his Executive Officer.
Colonel Andersen, not wishing to lose Colonel Turner from his outfit recommended someone else to head the provisional battalion, but Brigadier General Lawton Collins, Chief of Staff of the Hawaii Department, picked Colonel Turner.
Colonel Turner was an executive of Lewers and Cooke, one of the largest building supply companies in Hawaii. Consequently, he came in contact with many Japanese contractors, some of them parents of the AJAs. He knew that they were dependable and honest.
Jim Lovell, a schoolteacher and a National Guardsman, came to Hawaii from Nebraska in 1930. He taught at Washington Intermediate School, Roosevelt High, and McKinley High. In October 1941, when the National Guard was federalized, Lovell was a captain. The AJA inductees were pleased to find that one of the top officers of the battalion was their friend.
The other top officers of the battalion were:
Headquarters Capt. Alex E. Mackenzie
A Company Capt. Phillip Peck
B Company Capt. Clarence Johnson
C Company Capt. Charles Breneman
D Company Capt. Jack Johnson
Colonel Turner was told that no one of Japanese ancestry was to head a rifle company.
Hawaiian Provisional Infantry Battalion
There would be 250 men in each company. Four AJA officers were selected in the headquarters staff: Capt. Taro Suzuki (Supply), Capt. John Tanimura (Utilities), Capt. Issac Kawasaki (Surgeon), and 1st Lt. Katsumi Kometani (Morale Officer). I believe it was during this organizational period that I was transferred to A Co.
On Troop Ship
It was June 5th, when the battle of Midway was raging that the provisional AJA battalion of 1432 men was finally loaded without our guns on the troop ship Maui and secretly set sail for the mainland U.S. There was no opportunity to say "Goodbye" to family and friends. The next day, June 6th, the battle of Midway was won. This was a great relief for us because it was generally felt that had Japan won that battle, Japan would next invade Hawaii, our home.
Fortunately, the ocean was calm. There was much gambling for recreation and lots of money changed hands. The AJAs had a lot of money due to the Japanese custom of giving sen betsu to men getting into the Army. The ship was crowded with military dependents being shipped to the mainland. There were five other ships in our convoy. Only two meals were served. By the time the kitchen served the last meal, it was afternoon, and time to prepare for the next meal.
There was much excitement as we approached the Golden Gate Bridge after a week at sea. The Maui docked in Oakland. What surprised us was the stevedores were almost all haoles. In Honolulu, stevedores were all of other ethnic groups.
The battalion, now known as the 100th Infantry Battalion, was split into three groups and loaded into three separate trains to take us inland. Each took separate routes – north, central and southern. I was in the central route. We had no idea what our destination was. Our orders were to keep the shade down so as not to be seen as we sped along.
Troop Train
Several stops were made enroute. At one of the stops, we were greeted by Red Cross workers who served coffee and sandwiches. They were puzzled by the size and color of the soldiers in American uniforms.
As hours passed, the shades were opened so that we could appreciate the vastness of this country. Our train took us through forests, open fields, dry and arid land, and fertile farmlands of Minnesota and Wisconsin.
To pass the time, ukuleles, cards and dice again made their appearance. Our first station stop in Wisconsin was in an area where barbed wire fences and guard towers were visible. Immediately speculation ran high – is this our destination, a concentration camp? Much to our relief, the train pulled out after a short stop. The next stop, some days afterwards, placed us in a more hospitable surrounding. This time it stopped at Camp McCoy, our training grounds for the next several months. It was June 16.
Camp McCoy
This 14,000-acre camp was used primarily by National guardsmen for artillery and maneuvers. There was a group of M.P.s stationed there. The wooded area with gentle hills was pleasing to the eyes. There were no barracks, so we slept in pyramidal tents, four or five persons to a tent.
The days were hot, and evening were humid. Clouds of bugs and mosquitos filled the air. At nine or ten at night, we were still perspiring and evening showers, taken outdoors, were a relief. Although it was summer, the water was very cold. As fall approached, the weather was very agreeable. Prior to the coming of the cold weather, our permanent quarters were completed, and we moved into comfortable quarters.
The 100th was placed under the Commanding General of Ground forces. We were to be trained to be combat ready by September 30th. Training started immediately. The men worked hard. Colonel Turner, our "old man," lectured the group, occasionally admonishing us to do our best, that the eyes of the Army brass were upon us, the people were testing us, all Hawaii was watching these Army guinea pigs. One evening, after a hot day's training, the P.X. ran out of beer. The next day the "old man" gathered his brood to lecture them on excessive drinking. "You can't drink Wisconsin dry," he reminded us.
On July 18, 1942, I was promoted to Communication Sergeant for Company A.
The summer twilights were long. After movies about nine to ten pm, we could still read newspapers outdoors. Because ours was an unusual outfit, reporters with their photographers frequently came for interviews, to get news about our background, education, how we felt being in the U.S. Army, and our impression of the Mainland.
After training and on weekends, passes were issued. Many of the men befriended families in Sparta, a small farming community of 6000 located three miles from camp. The men were well behaved and were well received by the townspeople. The residents were surprised that we spoke English so well. They were surprised that their Army friends usually brought gifts on their visits. The men wrote home about the cordial treatment accorded them by the townspeople. Soon these hosts began receiving gifts in the mail from grateful families in Hawaii. The Sparta USO became a second home to many of the men. Its director, Miss Alice Kenny, was everyone's friend and made us feel at home. On August 5th, a company paraded in LaCrosse in connection with a bond sale drive by Abbott and Costello.
Athletics
For athletic recreation, Major Lovell and Dr. Kometani formed a battalion baseball team. First, they played against local civilian teams and later in outlying areas. They won 8 of 14 games. The men spread their horizons and soon used their passes to visit LaCrosse, Milwaukee, Chicago and other nearby cities. Many travelled as far south as Louisiana and east to the Atlantic Coast.
Trip to Chicago
From letter written June 20, 1942 – McCoy:
Weekend pass to Chicago from Friday to Sunday. Travelled in fast train 85-100 miles per hour. The cost to Chicago was $5.95 round trip on furlough ticket. The trains are equipped with a bar, lunch counter, dining car. A nurse is also on the train. Travel by rail is heavy due to difficulty in getting tires for automobiles. Gas was not rationed yet in this part of the country.
The train made a short stop in Milwaukee, a city of about 500,000 on Lake Michigan. From here to Chicago, the coastline is the homes of the wealthy. Just before reaching Chicago is Evanston, a beautiful tree lined city, very exclusive. Only residents and visitors with passes are allowed to enter some of the beaches. No bars here.
Then to the huge, crowded city of Chicago with 2000-unit apartments. Its aquarium is over ten times larger than the one in Waikiki. The preserved wild animals in the museum look real. The beach is narrow but long and crowded. Dinner at Don the Beachcombers. Cruising taxis are everywhere. Street cars look very antiquated to the buses of Honolulu.
Pass to Minneapolis and St. Paul
From letter dated July 7, 1942:
Last Sat. a friend and I took an overnight pass to the Twin Cities – Minneapolis and St. Paul. Minneapolis is a city of about 500,000 where the University of Minnesota is located. Its stadium holds about 52,000 people. Nearby are Lakes Harriet and Calhoun. This is the state which claims 10,000 lakes.
Just outside Minneapolis is St. Paul, a city of just under 300,000. This is more of a residential city with beautiful homes and tree lined streets which are well maintained.
In such an area live the George Morgans who invited us for lunch. Had a delightful two hour visit with them. Their daughter Ann and her husband Edgar Ober happened to be there also. They operate a 250 acre farm in Lake Crystal just outside of Menhate.
Mr. and Mrs. Kountze, frequent visitors of Halekulani, like the Morgans, live here also. Had only time to chat by phone as departure time was at hand. The David Weyerhausers live next door to the Morgans.
Yesterday, July 6th, while on maneuvers, we ran into a four ft snake. No one knew what kind it was.
Mid July, 1942
Excursion to Wisconsin Dells. This day, three bus loads of us spent the day visiting this tourist attraction. A three hour boat ride took us down the Wisconsin River, dropping us off occasionally to see deep cuts through sandstone caused by melting glaciers thousands of years ago. Like most tourist towns, the sidewalks abound with shops selling curios, artifacts, etc. An Indian chief in full costume posed with you for a snapshot. You could even don a full feather headgear for a photo. Tours through wigwams and tepees were interesting.
In this town of 2000, there is a Crandall Hotel which advertised "Every room with a private bath."
During the cold weather, the shops close and the Indians disappear into their native villages until the warm weather returns and the tourists start coming back.
(Added note: In his memoirs, Uchida wrote "December 31, 1942 received orders to move to Camp Shelby, Mississippi near Hattiesburg." However, he did not describe the period from Camp Shelby to the battalion's arrival in Africa. The 100th went to Louisiana in April 1943 for field maneuvers, returning to Camp Shelby in July. On August 11th, the battalion left by train and arrived at Camp Kilmer, New Jersey two days later. On August 21st, it boarded a troopship and sailed in a convey to Oran, Algeria where it landed on September 2nd.)
34th Division
The 100th was attached to the 133rd Regiment of the 34th Division, Fifth Army. Units of the National Guard from Iowa, Minnesota, Nebraska, North Dakota and South Dakota formed the 34th. They wore a Red Bull shoulder patch and were one of the first American divisions to see action in Africa. Commanding the division was Major General Charles W. Ryder.
In the 133rd Regiment, the 100th was the second battalion. The other two regiments of the 34th Division were the 135th and the 168th.
Salerno
On September 19, 1943, the 100th boarded the landing craft Frederick Funston and arrived offshore of Salerno Beach on September 22nd at 8:00a.m. The beach was already secured by Allied forces but explosions of artillery and mortar shells could still be heard in the hills further inland. The shore was several hundred yards away. We waded in chest deep waters to shore.
There was much activity on the beach – materials being unloaded and trucked further inland. GI vehicles scampered all around. The 100th was trucked to a forward area. The first town we passed was Battaglia. It was completely battered, and I didn't notice a single undamaged house roof. For the first time I felt that we were actually in the war zone and would soon put into use what we had been training for. The truck took us past Compagna, Chuisano, Monte Corvino, Monte Marano, etc. At Monte Masano, a German soldier became our first prisoner.
The rainy season had begun and the skies opened up the night of September 25th. My foxhole was half filled with water. The next morning, the piece of canvas which I usually spread in the bottom of my foxhole was so deeply mired in mud that it was abandoned.
Joe Takata – First "Killed in Action"
This morning, the 100th was the point unit for the regiment. B Company led the way. About 10:00a.m. as the point rounded a bend in the road, the Germans opened fire with their machine guns and mortars.
Colonel Turner called me and said "Sergeant, go up and see what's happening." As I proceeded forward, I avoided the road as much as possible and took to the wooded hillside. When I finally reached the forward troops who were in a wooded area off the road, word got around that Joe Takata was hit. Joe became our first KIA (killed in action).
In a distant curve in the road, I spotted a German half tract retreating slowly. Behind a haystack, it took position for incoming targets.
By this time, the Colonel and his group came up. As I was pointing out the target to him and the Artillery Liaison Officer, I saw the muzzle blast of the '88 which was mounted on the half tract. "Duck! Here it comes," I yelled. In a split second, the shell burst nearby, followed by the sound of the muzzle blast. Everyone scattered. Shells kept on bursting for awhile. The high velocity '88s are usually mounted on tanks and half tracks and are used as anti-tank as well as anti-personnel weapons. Their airbursts were deadly.
Contacts with the enemy were again made in Chuisano and Patrola and more casualties were suffered.
Screaming Meemies
About this time the 100th first encountered the German Nebelwerfer, a six-barreled mortar. The shells made a very loud, screaming and demoralizing noise as they left the muzzle and hovered over their targets. This weapon was named the "screaming meemies" by our troops. This happened on a forward march during daylight. Israel Yost, our battalion chaplain, was with us at that time, and we were engaged in light conversation about home. Then from the hillside came the nerve wrecking screams of the six barreled mortar.
For a few seconds, it remained overhead as if to spot their targets before dropping down on us. We all ducked in depressions on the roadside. Several men were hit.
Benevento
The battalion kept up its march, advancing 21 miles at night. About midnight, the 100th was on the outskirts of Benevento and took up positions on its outskirts. Benevento, a sizeable town, was badly damaged.
On October 7th, the 100th was trucked north to Montesarchio. After eight days in this filthy town, we were again trucked into Bagnoli for a good rest.
It was during this period when General Ryder, our division commander, gave the 100th the Red Bull shoulder patch of the 34th Division.
This break gave us time to bathe, dry our socks, and wash our dirty underwear. After shaving off our beards, our face felt very naked and cool as we had grown accustomed to the hairy growth. Eating was a continuous operation. Some of us pooled our C-rations, poured them into helmets and cooked with whatever vegetables we could find in abandoned farms. Dried onions and eggplants were frequent ingredients. When one helmet was empty, another would take its place with perhaps some other ingredients added to the canned C-rations.
Some of us vowed that if we ever got home alive, we would never complain about any food placed on the table.
The next morning, the S-2 section moved forward to a farmhouse to establish an observation post. Upon entry, we found Major Johnson already there looking for dried figs. We removed a few pieces of tile from the roof. From the opening, we could see the countryside. There was a small barn-like structure several hundred yards ahead. I took one of the men with me to check it out. As we approached, we heard loud talking. As we cautiously entered, here was Captain Mizuha of Company D talking to a German prisoner, a huge Nazi sergeant with high cheekbones. He understood some English. He was captured while still asleep. The rest of his comrades had retreated during the night.
Seeing our oriental faces, the prisoner was very confused. Captain Mizuha asked him whether he knew what kind of soldiers we were. When no reply was given, Mizuha said we are soldiers of General Tojo of the Imperial Japanese Army fighting against the Germans. We took the prisoner to battalion headquarters where Colonel Turner questioned him. The colonel then called Tom Nosse of Headquarters to take the prisoner to regimental headquarters which was located across the Volturno River, which we had waded across the night before. As Tom headed back, he placed his pack on the back of the prisoner to lighten his load.
Some years later, in our clubhouse on Kamoku Street, we were having a bull session reminiscing about the darker days on the front. Someone mentioned the episode about this prisoner. Thereupon, Colonel Turner asked whether anyone had heard what happened after Tom started off with the prisoner. None had heard. Thereupon, the colonel continued that when Tom and the prisoner came to the cold, waist deep Volturno, Tom jumped on the prisoner's back to get a dry ride across. Tom, who was present at that time, remarked that when they were in midstream, two German reconnaissance planes flying very low, took pot shots at them with pistols. Fortunately, neither was hit.
San Angelo D'Alife
The next day was spent preparing for a night attack on San Angelo D'Alife, seven miles north. Patrols reported that the valley through which the regiment was to advance was heavily mined and covered by machine gun positions of the tough 29th Panzer Grenadier Regiment.
The 100th was the lead battalion for the 133rd Regiment and its commander Colonel Fountain told the officers to expect heavy resistance. About 7:00p.m., A Company who was spearheading the battalion received only occasional enemy fire. Three hours later, the point reached some farmhouses. All hell broke loose. The Germans opened fire with well-placed machine guns, mortar, and artillery. The whole sky lit up from explosives and tracer bullets. A Company was in an expansive, flat area and took cover in small depressions. Heavy casualties were suffered. Lieutenant Vaughn, a platoon leader of A Company, came to report his situation to Colonel Turner who was just in the rear of A Company. The Colonel was emotionally moved by the report of casualties. He knew many of these men's fathers and uncles through his associations with Lewers and Cooke in Honolulu which supplied building material to many Japanese contractors.
As the 1st Battalion advanced on our right, the 100th was pulled back. Soon the 1st Battalion also got hit hard and had to dig in for cover.
The next morning the 100th advanced to a point outside of Alife and reorganized to prepare for an attack the next morning.
No Atheist in Foxholes
That evening after we were all dug in and prepared to retire, our S-2 section – Katsuto Komatsu, Shigeru Ushijima, Rioe Tomita, Joe Yamauchi and I – gathered for a chat. Our discussion drifted to a subject we all thought about but hesitated to discuss and that was death and God. Two members were strong in their belief in the non- existence of a supernatural power. Late at night, as we were all sleeping in our foxholes, a heavy artillery fire rained all about us. We all hugged the floor of our holes wishing we had dug deeper. Next morning, as we slowly emerged from our shelters, we drew together to compare notes. Fortunately, no one was hit but there were reports of fragments found imbedded in the walls of their foxholes. Luckily, there were no tall trees in our midst to cause overhead tree bursts. The two who, the night before, expressed their belief in the non-existence of a super power, stated that they were now not sure that God does not exist. When death seemed very near, everyone prayed.
At daylight, we started our advance through flat terrain and open fields. While going through a fig orchard, I noticed the branches of a tree moving. There was Major Johnson in the tree looking for ripe figs as enemy bullets were pecking the air all about us.
Far on the left in another sector, many of our tanks advanced at high speed, firing as they went.
Our forward troops mauled a group of retreating Nazis with 81mm motor fire. The Colonel, with tears in his eyes, said, "Sergeant, it does my heart good to see the Germans taking a beating after what they did to our A Company a couple of nights before."
It was this day when Captain Kometani told me that my good friend, Sergeant Richard Murashige got hit and died, that if I wanted to see him, he was in the front lines up ahead. As I moved forward a few hundred yards, I came upon his body covered with his raincoat and his rifle standing upright with his helmet on top of it. There is a bullet hole in the center front of the helmet and a larger hole in the back. I had a great urge to pull back the raincoat to see him for the last time, perhaps disfigured and unrecognizable, the last picture of Richard I would carry with me for the rest of my life. I decided that I would rather remember the jovial Richard with whom I trained and shared our feelings for many months.
San Angelo D'Alife – Castle Hill
When the area was secured, I took a couple of my men to observe the surrounding area from an old volcanic cone crowned by an abandoned castle. Enemy fire had ceased by this time. The climb to the top of Castle Hill was not too difficult. At the top we surveyed the old ruins of what must have been a proud castle overlooking hills and valley for many miles around. The countryside showed no signs of enemy movements. It was late in the afternoon when we descended and returned to our base.
Colonel Turner Hospitalized
At this time, the 135th Regiment relieved the 133rd, of which the 100th was part, and was given a rest period near San Angelo from October 25th to the 31st. The field kitchen caught up with us, and we enjoyed hot meals and a chance to wash off the two-week accumulation of perspiration and mud from our clothes and bodies.
It was during this rest period that Colonel Turner was ordered to the hospital for a rest and eventual transfer to a less physical position. He gathered his men together for a farewell address and admonished us to support whoever succeeded him. There were many teary eyes. We felt quite lost as Major Lovell, our executive officer and second in command, was also in the hospital suffering from a wound. It was difficult to imagine the 100th headed by anyone other than the "old man" or Lovell. They were the ones who stood with the men while training at Camp McCoy and Camp Shelby.
Major James Gillespie Replaces Turner
Major James Gillespie replaced Colonel Turner. Gillespie was the executive officer of the 133rd Third Battalion. He knew how the men felt. He told the men that he did not ask for the job, that the 100th would lose more than one commander, that we should work together. His words were prophetic as a month later, he too was sent to the hospital.
On October 31st, the 133rd started its advance. The 100th was in __________. It was about this time that Major Gillespie ordered our S-2 officer and me ahead with our jeep driver to reconnoiter our battalion's advance route. No problem was encountered for the first few miles. We came to an abandoned barn in which there were some chickens. With broiled chicken dancing in our heads, we caught about three, tied and placed them on the jeep floor. No sooner than we had started to move forward near a small bridge, artillery shells started to fall around us. We left the jeep to seek shelter in the barn. Soon after, an Italian came walking along the road heading towards the German line. He seemed to walk as though he was saying to himself, "I'm no soldier and am not fighting this war; no one is going to shoot me." Not far from where our jeep was parked on the road, an artillery shell came whistling over the hills, and landed on the road a few feet from the Italian, shattering every bone in his body.
On the other side from the barn, there was an unplanted farm. The Germans had it bracketed and commenced lobbying the shells which accurately covered the whole open area, barely missing the barn where we had taken shelter. As the shelling subsided, we went to retrieve the jeep which was dotted by fragments. The three chickens were all dead so were discarded. Fortunately, the jeep started with no apparent engine problem.
Here we waited until the battalion caught up with us. Colonel Gillespie was given a report of what had happened.
Third Crossing of the Volturno
At midnight on October 3rd, the 34th Division was ordered to cross the winding Volturno River. Across the river were orchards and olive groves. Beyond that were barren hills in which the Germans were heavily entrenched. The banks of the river were heavily mined. The 100th was to advance on the extreme left of the regiment. On our left was the 45th Division whose objective was the town of Venafro. Heavy artillery fire could be heard in that area.
From 11:30p.m. to midnight, our artillery fired thousands of rounds of shells into the flats across the river to soften the area for our crossing.
At midnight, the regiment started crossing. The opposite bank was heavily mined. The artillery observers were able to determine the advance of the units by the explosion of the mines as they advanced. Casualties were heavy. Units of B Company made a banzai charge to rescue Lieutenant Kim whom they thought was either wounded or captured. He was found safe, though slightly dazed after a fall. The regiment dug in for the night.
Finito
November 5th, the 100th was ordered to move forward and capture Hills 590, 600 and 610 which were located north of Pozzilli, a small town in the 45th Division sector. To cross the flat terrain which separated the outfit and the mountain, the Colonel decided to follow a slight draw on our left which led to Pozzilli.
When the column was halfway across the open terrain, an American jeep came tearing down near us, kicking up a cloud of dust. This drew artillery fire from gun emplacements in the mountains. The jeep sped away but occasional shells continued to fall. We reached the base of the hills and as we proceeded upward about 4:00p.m. shells started to rain on us. We could hear them coming from back in the hills. As they started falling very close to us, we hit the ground. I don't know how close it fell, but the one that got me just knocked me out. I don't know how long I was out. When I finally regained consciousness, the sun was low, just over the western mountains across the valley, judging from the long shadows it cast.
I lay there for awhile trying to determine the extent of my wounds. No one was around. I tried to move the different parts of the body but it ached all over. Gradually, I was able to get on my feet with the aid of my rifle. There was a hole in my helmet at the forehead. To lighten the load, I discarded my pack, helmet and rifle and hobbled downhill to the base of the mountain.
By this time, darkness had overtaken the valley. Finding a shallow foxhole, I decided to spend the night there. The air was getting cold. After awhile, in complete darkness, I heard footsteps and voices nearby. Should I call for help? What if they were Germans? I would be captured and become a prisoner of war. As the sound got closer, I recognized the language that only the people of Hawaii spoke. So I called. Fortunately, they were the medics with a litter heading up the hill to look for wounded.
I could not recognize their faces as it was so dark. At the battalion aid station, in the dim light, I recognized Kengo Otakagi who gave me a long sip of hot coffee – the best that I ever tasted. Kengo may have been one of the litter bearers. After being given sedation at the aid station, I was transferred to the rear to the 15th evacuation hospital in Alife where the wounded were lined up in tents.
Field Hospital
The soldier in the cot next to me moaned most of the night. By morning, he was dead with a sheet covering his face. From here, I was shortly transferred to the 182nd Station Hospital and to the 4th Field Hospital outside of Naples. Those who were ambulatory were able to see Mt. Vesuvius. Here I recovered sufficiently to appreciate the clean sheets on a regular bed, hot meals, and the angelic care of the nurses. My thoughts frequently drifted to my comrades in the battlefields – cold, hungry and tired.
Hospital Near Naples
But worst of all was the likelihood of becoming the next casualty at any moment or even suffering death. Was I one of the fortunate ones to be alive even with the possibility of being crippled for life? The full extent of my wounds was not made known to me yet. Although I was bedridden, the thought of possibly being sent to the states and possibly to Hawaii eventually was very appealing.
One night, the air raid alarm sounded. All lights were put out. The bedridden soldier next to me was found under his bed after the "all clear" was sounded. Was he suffering from shell shock?
A number of days at this hospital and I was evacuated further south to Palermo, Sicily for one night, then continued to the 33rd General Hospital in Bezente, North Africa. This was in December,1943.
Here the doctors spent more time evaluating my wounds. I learned that my left arm had suffered a severed nerve, numbing my thumb and the next two fingers. Part of my left kneecap was shattered and some fragments were imbedded in the knee joint as well as in my back. A fragment was also imbedded in my skull just above my left eye. I recalled seeing a hole in my helmet after I regained consciousness outside of Pozzilli. The helmet saved my life.
Part of the winter was spent at this tent hospital. The nights were cold. There was only one heater in the center of the long tent.
Patients in this tent consisted of American, Canadian, British, Scotch, Australian, New Zealand and other soldiers. Friendly tongue wars were waged every evening. As the British soldiers drew British rations, we had hot tea and toast occasionally. Their tea was flavored with cream and sugar. As most of us were bed patients, there were frequent loud calls at night for "Ward Boy – P38." A call for urinals.
Hospital in Bizerti
The winter nights were cold and the dew on the boardwalks between tents were frozen. There were many falls.
My thoughts frequently turned to Italy and the men of the 100th, especially to the men in the S-2 section. In later years, I learned that by mid-winter, every man of the original S-2 section was a casualty. A replacement (James Abe of Gardenia, CA) for S-2 about this time, whom I met at our 50th anniversary gathering, did not know any of the original men in the section. My thoughts also drifted toward home – family and friends, local food, surfing, etc. Frequent questions which came to my mind were: will I be returned to limited duty in Italy or returned to the states and possibly back to Hawaii for duty or discharge?
Then one day, after examination, the doctor decided that I was unfit for further combat and was to be Z.I.'ed. This was music to my ears as Z.I. meant shipment to the Zone of Interior, which meant return to the United States.
On January 16, 1944, I was transferred to the 79th Station Hospital in Algiers, North Africa. By this time, I was able to hobble about on my crutches. One day at the Red Cross canteen, the radio was tuned in to "Hawaii Calls." Hearing the music made me and a few other men from Hawaii very homesick. Among them was Kazuto Yoshioka of Port Allen, Kauai, who had lost an arm. He had befriended a soldier of Jewish descent. His name was Gabriel Shack. One Sunday morning, Kazuto and Gabe went to the office for passes to the town of Algiers. Gabe got his pass because he was "going to a synagogue to attend service in town." That was the only reason by which one could get off the hospital grounds. Kazuto was first denied a pass, but when he told the officers he was accompanying Shack to a synagogue, the pass was okayed. The nurse got his uniform and all helped him get dressed. Reports drifted back that they both had a good time making the rounds in town.
From Algiers, I was transferred to the 69th Station Hospital in Oran, North Africa. Then on March 11, 1944, I was put aboard a hospital ship and shipped to the Newton Baker General Hospital in Martinsburg, West Virginia. We arrived there on March 22nd. The next destination was the Schick General Hospital in Clinton, Iowa where we arrived on April 1st. This hospital specialized in neurosurgery.
By this time, I was quite ambulatory with the aid of crutches. Consequently, life in the hospital was beginning to be quite enjoyable. Here I learned to play bridge and soon a foursome was formed. During free time, we were usually seen around a bridge table. I also tried to learn how to speak German. USO entertainers frequently appeared on stage to present skits.
There were many Italian prisoners working at Schick General Hospital. They seemed very, very happy with the good treatment they were receiving as US prisoners with comfortable lodging and good food and easy work. In the evenings they frequently gathered at the edge of the hospital grounds, overlooking the town of Clinton, and sang Italian songs, much to the enjoyment of the residents below. Many came in cars which they parked on the road that led up to the hospital.
While at Schick, I befriended a sergeant from the 34th Division. His name was Kenneth Thelen whose home was in Grafton, Wisconsin near Milwaukee. He also was on crutches. He asked me to join him on a three-day furlough to his home and I accepted. He had two younger brothers, a married sister and parents. His father was a butcher. Although we were both on crutches, we managed to cover a lot of ground in Grafton.
It was at Schick that the doctors removed some shell fragments and patched a severed nerve which controlled the thumb and the next two fingers of my left arm.
It was here that I experienced the arrival of spring. Outside my bedroom window was a young tree about 15 feet tall. The winter cold had removed all of its leaves from the branches. Then one morning, I noticed the new shoots starting to emerge. In a few days, the tree seemed almost fully clothed with tender light green leaves.
My next stop was the Dibbel General Hospital in Menlo Park, California where I arrived on July 4, 1944. Dibble was noted for plastic surgery. Many soldiers from the Pacific area who were severely burned were brought here to be "remade." This transfer westward was a morale booster for me and others from Hawaii. This was as close to home as we could get on land; the climate was more like Hawaii. In nearby San Francisco, we could get Japanese and Chinese food. All kinds of seafood were available at Fisherman's Wharf.
In the hospital grounds, I found a solitary apricot tree loaded with juicy golden fruit. They were sweeter than any other store-bought apricots that I had tasted before.
I enrolled in a pottery making class outside the hospital grounds.
Walter Crandall, the bookkeeper at the Halekulani, had two elderly cousins in Santa Cruz. They invited me for lunch one day. Had a nice day with them; while in Santa Cruz, I visited the giant redwood trees and a "haunted house" where the law of gravity is defied.
Ah Kee Leong was also a patient at Dibble. I don't know what outfit he was in. He had a badly wounded arm. He and I took several passes to San Francisco. Our favorite destinations were Chinatown and Fisherman's Wharf. I recall very clearly a nice warm sunny day in San Francisco when I saw the fog rolling shoreward from the open sea. Soon the mouth of San Francisco bay was blanketed with the milky fog. It didn't take long before it reached us. The temperature immediately dropped, and I stood there freezing. This all happened in a few minutes.
Finally the day came for surgery on my left arm to remove a large scar tissue which restricted its movement. Also removed at Dibble were more fragments.
On September 30, 1944, a few of us from Hawaii were sent to the Fort Lawton Station Hospital in Seattle, Washington to wait for transportation to Honolulu. We were there from October 2nd to 10th when we boarded a troop ship. We were placed in the hospital section.
On October 17th, we sighted Diamond Head. I didn't think there was a dry eye among the men from Hawaii. That day for the first time, we saw some other members of the 100th as they disembarked. They were returning home on points. There was no fanfare.
The patients were taken directly to Tripler General Hospital near Fort Shafter. Farrington High School was converted into a hospital during the war.
At the first opportunity, I called my mother and sisters. They came to the hospital and we had a joyful reunion.
Needless to say, I also got in touch with Edna who stood by me even though my future was questionable because of my wounds. We had lunch occasionally when I was given a pass. The day before Christmas 1944 we were married.
More surgery was performed at Tripler, primarily to remove more fragments. The surgery performed at Schick General Hospital in Clinton, Iowa to tie the severed nerve of my left arm was not successful. The median nerve which controls the feel and the movement of the thumb and the next two fingers apparently had not mended. The doctors felt that they could do nothing further.
Prior to my discharge from the army, I had to undergo a complete physical. The dentist, a Second Lieutenant, felt that one of my left upper molars had to be extracted. He succeeded in breaking off the crown but the root remained intact. With a chisel and hammer, he pounded the root. It got loose but was lost in the antrum. An emergency x-ray showed that it was lodged in the back of the root of the last molar. In desperation, the dentist extracted the good tooth to enable him to remove the root.
On February 19, 1945, I was honorably discharged from the U.S. Army by reason of physical disability.
For awhile, Edna and I stayed with my brother Walter who had just built a new home on Coolidge Street. The Halekulani Hotel wanted me back as soon as possible. Serious consideration was given to continue school under the G.I. Bill. Even with government subsidy, I didn't feel that I could manage the needed finances so I did not pursue this thought.
The cavity which resulted from the teeth extraction did not heal so I could not speak well. When puckering my lips to sound words like "blow, pin," etc., the air would escape through the cavity.