Keijiro Umebayashi's history provides many details of his childhood in Hawaii. While he did not write extensively of his combat experience, he does describe the battalion's training at Schofield Barracks in Hawaii, Camp McCoy in Wisconsin and Camp Shelby in Mississippi and the landing at Salerno Beach.
He was awarded the Silver Star, Bronze Star and two Purple Heart medals. Although he was wounded twice, Umebayashi was still in France when the war in Europe ended. He retired as a plumber at the Pearl Harbor Naval Base and Barbers Point Naval Air Station. Umebayashi passed away on March 16, 2015 at the age of 95 and was laid to rest at the National Memorial Cemetery of the Pacific (Punchbowl) in Honolulu, Hawaii. His wife Merle preceded him in death. He was survived by his two sons, two daughters and three grandchildren.
His son Colin provided a copy of his memoirs to the 100th Infantry Battalion Education Center. Some footnotes were added to provide additional information.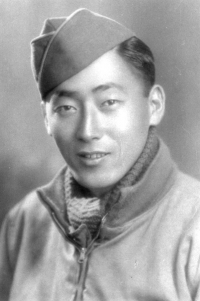 Note: At the end of the Umebayashi history, there is a section of recollections by Kenneth Kaneko, one of his comrades in B Company.