Some of his fellow soldiers during training teased him because he never swore, smoked or drank and spent his free time studying the Book of Mormon. In his diary he describes his time training at Camp Shelby, Mississippi as a time of: great heat, ticks, staying up all night learning to operate a radio, red dust that covered the men, and eight hour marches in the hot sun with little water. He wrote of feeling like "a dried prune…. so hot I can't even seem to think."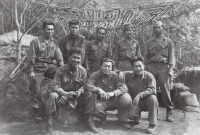 Although Isaac initially trained as a radio operator in the Headquarters company, once in combat he volunteered to become a medic as casualties mounted. He had no medical training, but tended to the wounded, carrying many to safety. Whenever he jumped out of a foxhole to save men, he would repeat the 23rd Psalm over and over in his head: "The Lord is my Shepherd, I shall not want….." He took so many risks he wrote that at one point a Protestant chaplain cautioned him "not to tempt the lord." For his actions at the Battle of Cassino he was awarded a Silver Star to go along with his Bronze Star. There, on the 8th of February 1944, he braved machine gun and artillery fire to save several severely wounded men caught in a fire fight. His actions have been documented in Thelma Chang's book "I Can Never Forget: The Men of the 100th/442nd" and in an article in the June 1992 issue of the Hawaii Herald titled "Taking Care of the Boys" about the 100th's medical team.
It was his sad task during the battle of Cassino to retrieve Major Jack Johnson from the minefield where he was mortally wounded. At the end of the battle he would write: " When we were relieved and pulled off the line, I was the only frontline medic left, walking back."
After Cassino, Issac was shipped back to the mainland and was granted a furlough in Salt Lake City. He had spent his first furlough there visiting religious sites and receiving a blessing before leaving for Italy. When he returned safely a year later, his LDS friends introduced him to another member, Gwen Yamaki, who had been born in Utah. They were married in 1945 when he was 33 and she 27. The marriage took place after he had received his first medical training from the army.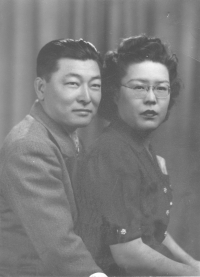 Upon his discharge from the army, he returned with Gwen to Hawaii and obtained a business degree from the University of Hawaii. Unable to find a suitable job in Hawaii where he had two sons, Ken and Vance, the family moved to Chicago for a short time and then to Los Angeles in 1952. There, Isaac became a prison guard in the California Department of Corrections and had another son, Bruce. While a guard, he initiated the first psychology classes for prisoners in California, teaching them how they could live meaningful lives.
One of Isaac's greatest disappointments was the estrangement of Ken. Growing up as one of the only Japanese families in the blue collar, white prison guard community during a time when anti-Japanese prejudice still existed was difficult for Ken and Vance. Neither felt at home outside of Hawaii. Ken dealt with the isolation and loneliness by drifting into heroin addiction. Vance became an avid surfer. Isaac and Gwen were so busy keeping the family of five financially afloat and working for the Church that they had little time to spend with Ken during this difficult time. Ken knew that his addiction caused his parents great emotional pain. He was eventually able to overcome his addiction and become a highly respected addiction counselor in California and Hawaii. One of Ken's happiest memories is the final reconciliation he had with his father in the hospital before he died. It is likely Isaac felt that his son's return to the family was a final gift from God.
Isaac believed his survival in the war was due to God's will: "Blessings come to people in many surprising ways. World War took me out of the confines of the Hawaiian Islands and broadened my vision and experiences." He died from unexpected complications after surgery on June 25, 1984. The Akinaka family continues to live on Olu Street.
-by Michael Markrich
Michael Markrich is a Honolulu-based researcher, writer and editor. He and Monica Yost, eldest daughter of the 100th Infantry Battalion's wartime chaplain, Israel Yost, co-edited her father's memoirs, which were published in 2006 by the University of Hawaii Press as "Combat Chaplain: The Personal Story of the World War II Chaplain of the Japanese American 100th Battalion."