When Second Lieutenant Young Oak Kim reported for duty at Camp Shelby, Mississippi, in February 1943, the commander of the 100th Battalion (Separate), Lieutenant Colonel Farrant Turner, offered him an immediate transfer because "Koreans and Japanese don't always get along."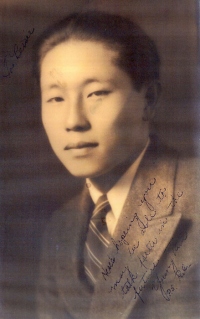 Kim refused on the spot: "You're wrong. They're Americans, I'm American, and we're going to fight for America." The young Korean American lieutenant was being both patriotic and pragmatic. Born in 1919 in downtown Los Angeles, amid Japanese, Chinese, Mexican, and Jewish immigrants, Kim knew his opportunities for advancement would be limited in a "white man's army." "If I wasn't with the 100th," Kim recalled many years later, "I would be a PR [Public Relations] officer or have some insignificant duty someplace else, because nobody was going to let me, as an Asian, command regular troops." By contrast, a "bastard" battalion (as he called it) such as the 100th would give him a chance at leadership in combat.
But when Kim first met the members of Company B's second platoon, he wasn't impressed. "They all needed a haircut," he remembered, "most of them didn't have their shoes laced," and "they had their shirts out instead of inside their pants."
The men of the 100th weren't impressed by Kim, either. He had three strikes against him: He was a mainlander, a yobo (Hawaiian slang for a Korean), and a "ninety-day wonder" (a second lieutenant who had earned his commission through Officer Candidate School rather than a service academy). They even came up with a nickname for their new junior officer: "GI (government issue) Kim."
Yet Kim quickly came to understand that the men of the 100th had an attitude because they were bored. They had already been through basic training in Hawaii a year before. They had been retrained at Camp McCoy, Wisconsin, for the next six months. Now they were going through training once again, at Camp Shelby.
And Kim saw that their lackadaisical manner masked fierce determination. "They were very, very intelligent. My platoon sergeant was a graduate of Texas Law School. You don't have law school graduates in the typical outfit." In the rest of the army, the best and brightest troops were assigned to elite units (such as the Army Air Corps) or to occupation specialties (such as engineers). But segregation had concentrated all the Hawaiian Japanese Americans across the educational and professional spectrum into a single battalion, the 100th. Their average age was 24, much older than the norm among infantry troops, and despite being smaller than the average soldier, they were in excellent physical shape following their many months of training.
After overcoming his initial reaction and recognizing the potential of his troops, Kim threw out the training manual and "made every private act as squad leader, every squad leader act as either the platoon guide or the platoon sergeant, and all the guys act occasionally as a platoon leader." He used live ammunition in maneuvers and even "borrowed" TNT for real explosions. He "taught them a procedure that later was accepted by the Army during the Korean War … movement and fire" — aggressive small unit tactics instead of drills and stationary marksmanship. "The men didn't appreciate it then," Kim recalled, "but the moment we hit combat, they realized, 'Hey, this is what we're supposed to really do.'" Long before they landed in Italy, the men of the 100th were ready to fight.
But even more important than their maneuvers, Kim learned the key to their performance as soldiers was their resentment at being kept out of combat and their eagerness to prove their patriotism. "They had to succeed. They couldn't fail," Kim recalled. "We had to be as good as any other Caucasian outfit. And we knew that we had to shed blood…. And we all had to be prepared to pay that price."
The men of the 100th took their identity as Japanese Americans as seriously as they did their preparation for combat. In fact, they grasped that the two were related, and in evening campfire discussions, they talked endlessly about how they would transform their homeland, the Territory of Hawaii, when they returned from the war.
"True, we played cards, we did all kinds of things," Kim remembered. But "the serious bull session" started when it was too dark to play cards. With Kim invited to participate, "Spark" Matsunaga (later a U.S. Senator), Sakae Takahashi (later a prominent attorney, banker, and politician), and 15 or 20 others "talked about forming a different political party, breaking the stronghold of the Big Five [the interlocking Caucasian firms that had dominated business, agriculture, and politics in the islands for decades], and changing the political dynamics in Hawaii."
As Japanese Americans, who made up 37% of the prewar population of Hawaii, the men of the 100th would have the political base, and as veterans, they would have the moral authority to move their people off the plantations and into the seats of power after the war.
"You're going to do it for the Japanese Americans, but in the end you're going to do it for all Asians, and that's why I'm here," Kim told them over the firelight. "I look like you. No one can tell the difference, and so when it gets done, it's going to be for everybody."
"I'm against segregation," Kim said, decades after the war, but "in hindsight, I'm glad the 100th was a segregated unit. Because then if it did well, we'd get credit." And when they finally entered combat, the men of the 100th, and Kim, would earn all the credit they got — and more.
******
The 100th Battalion (Separate) embarked for Oran, North Africa, in August 1943. In September, the unit joined the 34th "Red Bull" Division, part of the American Fifth Army under Lieutenant General Mark Clark, who was to become the most enthusiastic sponsor of the 100th throughout the war.
From the fall of 1943 through the summer of 1944, the 100th fought on the Italian front and distinguished itself in some of the bloodiest battles of the war. Clark was "proud to have them in the Fifth Army," noting that "these Nisei troops seemed to be very conscious of the fact that they had an opportunity to prove the loyalty of many thousands of Americans of Japanese ancestry and they willingly paid a high price to achieve that goal."
Clark singled out Kim as an "able and hard-boiled" warrior. By this time, Kim, now a captain, and his campfire buddy, Sakae Takahashi, also a captain and the head of B Company, had emerged as intelligent and daring leaders of the 100th. The troops had not called their Korean American officer "GI Kim" for many months. The recipient of a Silver Star and a Purple Heart within the first few months of combat, he was now known as "Samurai Kim," and the men of the 100th could always spot him in combat.
In winter and summer, through mortar barrages and machine-gun fire, he wore just a knit cap on his head. Kim reasoned that the silhouette of his helmet was an invitation to enemy snipers — that it was better not to get shot at in the first place than to hope your helmet would stop a bullet.