Witness to War – The 100th's Surgeon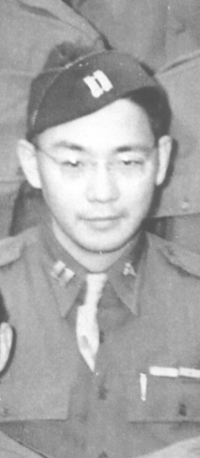 The son of immigrants from Oshima in Yamaguchi prefecture, Isaac Kawasaki was born on June 6, 1912 in Honolulu, Hawaii. His father, who had arrived in the 1890s, worked as a cook on an interisland steamer until he saved enough money to open the Kawasaki Hotel which catered to Japanese immigrants. In addition to running his hotel, the elder Kawasaki was an active Protestant minister. Thomas Murphy in "Ambassadors In Arms" writes that Mr. Kawasaki was "the first lay Japanese Christian preacher in the Territory (of Hawaii)."
Kawasaki was the second of seven children and attended Honolulu's Royal School until the fifth grade. Both of his older sisters were married to doctors living on the mainland. He accompanied his mother and brother Leonard to New Haven, Connecticut where one of his brothers-in-law had his medical practice. The family hoped to get Leonard into Yale Medical School. When Leonard wasn't accepted, he successfully applied to the University of Cincinnati Medical School where his other brother-in-law was a teacher.
After two more years in New Haven, Kawasaki moved to Cincinnati, completed high school, and attended the University of Cincinnati Medical School, graduating in 1935. Three years later, he was named a research fellow.
In 1939, Kawasaki's father became critically ill. With his brother practicing medicine in Cincinnati, Kawasaki dutifully returned to Honolulu, passed the Hawaii medical boards and began his practice. He also worked as a pathologist part-time at St. Francis Hospital.
The following year Kawasaki got a call from a doctor at Tripler Hospital. They were short a pathologist and the Army doctor asked if he would like to join them. Kawasaki eagerly accepted and in a year was promoted to Captain. He was assigned the job of running Tripler's medical lab, at that time located at Fort Shafter. On December 7, 1941 when Japan launched a surprise attack on Pearl Harbor and other military installations on Oahu, Kawasaki was ordered to Tripler at 8:00 a.m., assigned to surgery and operated non-stop until 6 a.m. the next day.
A short while later, Kawasaki, an avid golfer, played a round that would have a lasting impact. As he told Dr. Michael Okihiro in a 1993 interview: "One day, shortly after the war started, I played with General Emmons (the Commanding General and Military Governor of Hawaii) and he asked me what I thought we should do with the Japanese in Hawaii. I told him that I didn't think they should be evacuated. I thought they should be left alone because in Hawaii, if you thought about it, the Japanese were the ones, more than any other group, responsible for the food supply, and they also were in everything else. They were on the ships. They were on the wharfs and so on. If you put them all away, how do you get supplies here? I said 'If you're afraid of them, you should be afraid of all of us. I don't see why you people worry about them.' And that was my answer to him while we were playing golf. And afterwards Emmons stated that he would not deport the Japanese and send them to camps like they did with the mainland Japanese."
In May 1942, Kawasaki was assigned as battalion surgeon to the newly formed Hawaiian Provisional Battalion, renamed the 100th Infantry Battalion after it landed in Oakland, California. A month later, Kawasaki was sent with the men to Camp McCoy in Wisconsin for training. While they trained for combat, he was sent to the U.S. Army Medical Field Service School to learn how to treat people in severe battlefield conditions. After several months of training, he returned to the 100th and then shipped out with the battalion, arriving in Italy at the end of September 1943.
Kawasaki would recall that the men of the 100 "were all young kids… They were just teenagers or in their early 20's at the most." At the forward aid station, he did mostly triage, organizing the young wounded as they came in and sending them to the rear. He performed surgery on critical cases. For the rest of his life, he would remember hearing young men calling "okaasan" (mother) just before they died.
The experience of seeing so many young men killed never left him. "I couldn't do anything for them," he told Okihiro in 1993. "They were beyond saving…. There are so many young kids. Nice people. They are all getting blown to bits!"