A Man For All Seasons
In 1947, a representative of the Japanese Olympic Committee (JOC) arrived in Honolulu, seeking help. Japan, like Germany, had been notified that its athletes would not be welcome at the 1948 Olympic Games. If Japan ever wanted to compete again, the JOC would have to travel to Rome and formally petition the International Olympic Committee to be readmitted. However, with postwar Japan in ruins, there was no money to help the nation's athletes.
People in Hawaii were less than enthusiastic about helping Japan. Memories of the country's attack on Pearl Harbor and the war were still fresh in their minds. Only one person in Hawaii's Japanese American community offered to help — Dr. Katsumi Kometani, a dentist, who had been the 100th Infantry Battalion's morale officer during the war. Due in large part to Kometani's efforts, the Japanese Olympic Committee was readmitted, thus enabling athletes from Japan to compete in every Olympic Games since 1952.
It was characteristic of "Doc," as he was known to his many friends, that he took no credit for the effort. He was too busy looking for new things to do.
Origins
Katsumi Kometani was born in Honolulu in 1907, the son of an immigrant from Fukuoka Prefecture who had run out on his labor contract with a Big Island sugar plantation and hopped a boat to Oahu. Lacking proper work papers, however, he became a professional gambler, living on the margins of the Japanese community. In time, he married a young widow who had been forced to leave Japan after her husband died.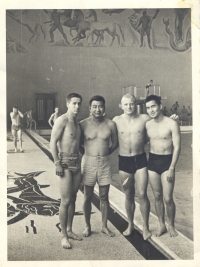 Young Kometani grew up with his parents, two brothers and two sisters in a small house in Kakaako, where his father worked as a butcher. Because his mother was illiterate, Kometani grew up watching his father read the newspaper to his wife every day from beginning to end — a practice they would continue well into their seventies. A self-described "wharf rat," Kometani spent his early years living near Honolulu Harbor, competing in swim meets with the legendary Duke Kahanamoku and his brothers.
Just as Kometani was entering high school, his father left the butcher shop to take a job as a cook at Mid-Pacific Institute in Manoa. The family lived on-campus, so Kometani became the beneficiary of a private school education, which was a rarity for Hawaii AJAs (Americans of Japanese ancestry) at the time. He ran track, worked hard at his studies and was determined to go to college. After graduating, he took a series of odd jobs, working on the large farm at the University of Hawaii in Manoa and as a part-time high school sports reporter for the Honolulu Advertiser.
He applied to Michigan State University, knowing full well that he did not have enough money to cover his expenses. But Kometani was so confident that he could win a swimming scholarship once he got there that he left for Michigan anyway. After one semester, the school did indeed award him an athletic scholarship. Kometani graduated from Michigan State and subsequently enrolled in dental school at the University of Southern California.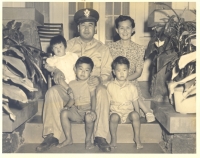 In 1930, with dental degree in hand, Kometani returned to Hawaii and opened an office in Moiliili. His practice thrived and soon provided him with the financial stability to marry Yaeko, a beautiful young nurse who worked at the Queen's Hospital. The couple bought a home and raised two sons, Franklin and James, and a daughter, Carol.
Kometani was also able to indulge in his passion for sports. In 1937, he had become the owner of Honolulu's leading baseball franchise, the Asahi, which competed in Hawaii's multi-ethnic, semipro baseball league prior to the war. The league's games were among the most popular sporting events in prewar Hawaii, attracting large crowds of cheering spectators. Kometani could often be found with his team at Honolulu Stadium, surrounded by throngs of happy, cheering fans. The skill level of his local Nisei baseball players was so highly regarded that in 1940, the team was invited to Tokyo to play in the Far Eastern Olympics with teams competing from all over Asia.
People who saw Kometani around Honolulu thought of him as being very distinct. He was 5'10", which was tall for a Japanese American at the time. He had a protruding barrel chest, dark complexion and a face one person described as "resembling a bulldog." Although some people said he had a "gruff" demeanor, he was known to love a good joke and had friends and acquaintances from every ethnic group and social strata in the Islands. During baseball season, he would buy lunch for the entire team every Sunday after the game.
The War Years
After Japan's attack on Pearl Harbor in 1941, the internment of Hawaii's Issei leaders deprived the AJA community of its traditional leadership. A transition took place as the Nisei, and particularly young establishment figures like Kometani, took it upon themselves to act on behalf of the community. He had been one of the early members of the Emergency Service Committee (ESC), an advisory group of Nisei considered loyal to the United States, formed as part of a community outreach effort by the Federal Bureau of Investigation and U.S. Army intelligence.
As a result of this link, when Kometani learned that a special battalion of AJA soldiers from Hawaii was being sent to the Mainland for training, he asked Colonel Kendall J. Fielder, assistant chief of staff for military intelligence in Hawaii, for permission to transfer to the new unit as an intermediary between the Caucasian battalion commander and the young AJA soldiers. The answer finally came three days before the 100th — at the time called the Hawaiian Provisional Infantry Battalion — departed Honolulu.
Within that short span of time, Kometani, then 35 years old, closed his dental office and was commissioned into the U.S. Dental Corps. The battalion was too small to rate its own dentist, however, so Kometani was named the 100th's morale officer. When the men arrived at Camp McCoy in Wisconsin, Kometani and battalion executive officer Captain Jim Lovell, a former McKinley High School coach, immediately took it upon themselves to organize baseball practice among the young soldiers after they had finished training. This led to a goodwill baseball tour of rural Wisconsin towns — an especially important gesture in 1942, as the memory of Pearl Harbor was still fresh in people's minds and anger against Japan and people of Japanese ancestry intense. Kometani took it upon himself to educate the citizens of Wisconsin that the young AJA soldiers in the 100th were not so different from their own sons.