Overcoming Adversities: A Lifetime of Valor
Growing up in poverty, Kenneth Kengo Otagaki's determination to improve his life began when he left his home in a small sugar plantation village to go to Honolulu. Working multiple jobs, he was able to graduate from the University of Hawaii and secure a permanent position. His budding career was abruptly stopped when he was drafted in March 1941. Otagaki became a member of the original contingent of Nisei soldiers in the Hawaiian Provisional Battalion, later named the 100th Infantry Battalion (Separate) who left Hawaii in June 1942.
"The boat ride to the Mainland, the train ride across the country, the gambling, new shoes, food, the whole works . . . Wow! Those were experiences I did not have before," he said. "I saw prejudice firsthand in the South, where we trained for a time. I resented the separate toilets, water fountains [and] theaters, where blacks had to sit far back in the balcony."
In November 1943, a little more than a month after the 100th Infantry Battalion entered battle in Italy, Otagaki was selected to be a member of the rescue teams that raced toward danger to reach the wounded. In one rescue, he was part of a litter bearer team that witnessed the impact of a "Bouncing Betty" explosion that killed several and wounded other members of Dog Company at Hill 600. Among the injured was Yoshinao "Turtle" Omiya, who was permanently blinded by the falling shrapnel.
"Turtle was all banged up," recalled Otagaki. "Spark's (Matsunaga) injuries weren't as severe, so I told Spark, 'I'm going to get the others first.' "He said, 'OK, OK.'"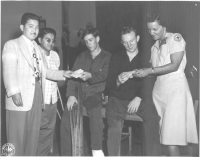 Otagaki's time in battle ended in January 1944, just before the deadly battle for Cassino. He and seven others were part of a night mission to rescue wounded comrades. "You can't abandon your friends," he emphasized. Suddenly, a mortar shell hit the patrol and exploded, killing three men and seriously wounding four others, including Otagaki. He and the others were rescued the next morning. The former University wrestling champion lost his right leg at the hip, his right eye, two fingers and a part of his chest.
"When I saw Ken at the hospital, he was comatose," recalled Otagaki's longtime friend, Albert Oki. "His rehabilitation was severe and painful."
But Otagaki was determined to live, in spite of his massive injuries. "I never gave up on myself, and no one gave up on me," he said. "I was almost dead when they gave me the penicillin. Like a miracle, it turned me around."
No one should have been surprised by Ken Otagaki's tenacity, for he had dealt with adversity all his life. At the young age of 14, he left his home in rural Laupahoehoe on Hawaii island in order to continue his education at McKinley High School on Oahu.
"My parents could not afford two children in high school . . . so in Honolulu, I earned my room and board by working as a houseboy, doing yardwork, cleaning dishes and other chores . . . . While at the university, I worked at a produce stand on River Street (in Chinatown), rising at 4 in the morning to prepare the day's fruits and vegetables for sale."
While attending the University of Hawaii, he worked at the school farm, learning as much as he could about agriculture. Even before graduating from the university in 1940, Otagaki was hired to manage the farm at Molokai Ranch, which was owned by rancher and then-territorial Senator George P. Cooke. But he was drafted, left Molokai and reported to Schofield Barracks. The next year, war broke out.
"Essentially, Albert Oki and I were already members of the 65th Combat Engineers and on leave during the evening of December 7. Being American soldiers, we felt it our duty to return to Schofield Barracks right away. We were naive about the race part and did not even think about it."
That evening, Otagaki and Oki were guarding a truck in the rain. Oblivious to the fact that they were being looked at with suspicion by their white peers, they decided to take shelter in the vehicle. Upon hearing their names called, the two jumped out of the truck. A sergeant aimed his .45 caliber gun at them, searched them and took their guns away.
"We were stunned at our one-time friends," said Otagaki. "In my own case, they stripped me naked, thinking I had documents on me. I was furious, disillusioned and started crying. I remember saying, 'Please get me out as soon as you can because I'm no good to this company.' So there I was [with] a bachelor's degree in agriculture, cleaning horse manure from the general's riding horse."
Even worse was the sense of betrayal he felt. "We drank together, bunked together, but all of a sudden, we were enemies after December 7. That really hurt. I said, 'How can this be? You know who we are.'"
Eventually, every Japanese American in the 65th Combat Engineers became part of the 100th Infantry Battalion.
"People have asked me, 'Why did you go? You could have stayed back as an essential worker in food production.' In spite of everything that happened, I still felt I should do my part."
After recuperating from his injuries and learning to function with his disabilities, Otagaki returned to Hawaii, where he was reunited with his college sweetheart Janet. Her feelings for him had not waned in spite of his severe injuries. The couple married and began their family. Otagaki also furthered his education, pursuing graduate degrees in Iowa and at the University of California at Davis in Animal Sciences.
They raised five children in their home in Manoa Valley. Otagaki went on to a distinguished career that included an appointment by Governor John A. Burns to direct Hawaii's Department of Agriculture and a professorship at the University of Hawaii. He also mentored many farmers.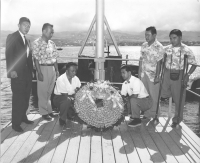 The lush gardens surrounding his spacious home were a constant source of joy for the agricultural expert. There he tended to his vegetable patches, fruit trees, and ginger and other flowering plants by sitting on a wide skateboard he had devised, pushing himself forward and backward with his hands, always with his many pet dogs happily in tow. In his retirement, Kenneth Otagaki oversaw the Club 100 publication of "Remembrances," in 1992, on the 50th anniversary of the 100th's formation.
In a 2005 speech, Otagaki said: "Today, I'm forever grateful to the people who stood by me — family, my buddies, my friends and people like the Cookes, who employed me through school. Adversity is bearable if you have determination in your heart and people like these by your side."
When Kenneth Otagaki died on March 26, 2009, at the age of 91, his close friends knew that in spite of his distinguished career in agriculture, what he was proudest of was his service to his country as a soldier with the 100th Infantry Battalion.
— by Thelma Chang
Thelma Chang is the author of "I Can Never Forget: Men of the 100th/442nd," which was published in 1991.