Never a Question for World War II Nisei Prisoners of War
In late September 1944, the 100th Infantry Battalion was transferred from Italy to northeastern France, where their mettle as a fighting unit would once again be put to the test. Only a month earlier, the seasoned and battle-tested Japanese American unit had officially become the 1st Battalion of the larger 442nd Regimental Combat Team, made up of Nisei volunteers from Hawaii and the mainland U.S.
By September 1944, the 100th, which entered combat attached to the 34th (Red Bull) Division, had been fighting in Italy for nearly a year. As a fighting force, they had impressed military leaders. In the words of 34th Division commander Major General Charles W. Ryder, the Nisei soldiers were "the finest fighting unit I ever saw."
With the 100th/442nd's transfer to France, the unit was attached to the 36th Division, originally from Texas. In the dark, frigid forests of the Vosges Mountains in northeastern France — where the German army had been ordered to make a desperate do-or-die stand at its border — the unit would suffer some of its heaviest losses: over 170 killed in just over a month and about 1,000 wounded. It was a month that would go down in history for its horror and sheer heroism. The 100th/442nd would write an extraordinary chapter with a battle that came to be known as the "Rescue of the Lost Battalion."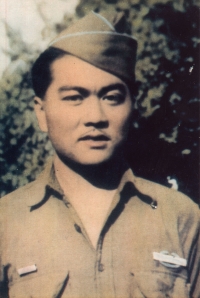 It was also a time when several dozen 100th Battalion soldiers experienced a fate they could not have imagined as young draftees in Hawaii, or as trainees at Camp McCoy, or even as soldiers on the troop ship bound for Europe — prisoner of war (POW). The POWs included Privates Oscar Miyashiro, Stanley Akita, and Roy Nakamine and Takeichi "Chicken" Miyashiro, the latter a lieutenant who had earned his battlefield commission at Anzio, Italy.
A few days before the dramatic "Lost Battalion" rescue was launched on October 27, the 100th was fighting in Biffontaine, a hamlet of a few homes. Before being hit in the hip that afternoon, Chicken Miyashiro and his men had already captured close to 30 German prisoners, including medics, and were headed toward the rear. "We had treated them real good," he recalled in a 1987 interview published in the 100th's monthly newsletter, Puka Puka Parade.
The Germans would not forget the humane treatment they received from the Nisei.
The large detail of 100th Battalion soldiers included 11 medics, who carried no weapons; six wounded litter cases; four "walking wounded" and six guards. Some of the captured German medics were also used as litter bearers. "When we were later captured, the German medics continued to carry us," said Chicken Miyashiro.
Stan Akita remembered taking turns for guard duty the night before joining the detail and giving the German prisoners cigarettes and the infamous German bread that contained "23 percent" wood pulp. "Since we were not used to eating wood pulp, we gave all of this German food to the prisoners, who were very pleased," said Akita. "We also gathered hay for their beds."
But Akita had a strange premonition that night and did not want to be part of the patrol that took the prisoners to the rear the next day, October 23. He wasn't alone: Sergeant George Hagiwara, too, had a funny feeling that something was about to go wrong. Despite their hunches, Akita and Hagiwara ended up going on a journey that proved their feelings right.
By around 9 o'clock the next morning, their detail was close to the top of a knoll. What they saw "could have made anybody pee in his pants," remembered Akita, who documented his experiences in a journal soon after the war. "A company of about 150 Jerries (Germans) was sitting, lying down . . . chewing the fat."
Akita observed that his sergeant acted quickly, asking the Jerries if they wanted to give up and go to America. "It seemed they were tired of fighting, because half of them threw down their weapons, but the officer in charge, a true Hitler man, had some of his men surround us. "In an instant, captors became captives. Some 100th soldiers reacted swiftly. Hagiwara, medic Richard Chinen and Young Oak Kim made a beeline for the bushes. Kim, a highly respected and battle-tested Korean American officer in the 100th, had sustained a serious hand wound, resulting in blood loss and the woozy effects of morphine. "I felt like I was floating," Kim recalled.
Roy Nakamine, a medic, was limping along in the rear — "Oscar and I were last in the column" — when he saw Kim and Chinen whiz by. "So, at least some could escape and relay information about what happened to us. But when they came back, we were gone." It was like a bad dream, Akita recalled. "After realizing we were actually prisoners, my morale was so low I felt it tickling my toes," he said.
Separated from their officers — "Chicken was my lieutenant and he was [landed up] in Poland," said Oscar Miyashiro — about 15 Nisei privates and their German guards trekked deeper into the forest, toward Germany. "We walked all day," he recalled.
The German guards returned some of the kindnesses they had previously been shown by the Nisei soldiers. For one, they did not confiscate the Nisei's personal items, even though some of them were valuable, such as their far more superior American cigarettes and Akita's Parker pen. "When they saw us tiring under the weight of carrying our own litters, they'd give their gun to their comrade and relieve you," said Akita.
When the men emerged from the forest, they were in a small French town, recalled Akita. There, the able-bodied were separated from the wounded, herded into a cow barn and given a few loaves of rock-hard bread — "that 23 percent wood pulp bread," said Akita. "You could kill a guy if you hit him on the head with it."
As they traveled by foot, trucks and train, the POWs saw a variety of places: abandoned textile mills, a French village near the German border, the back of a truck that looked like a dog catcher's wagon, a horse stable, even a small village where the Nisei POWs gave candies to the children. "The kids scrambled for it like chickens for worms," remembered Akita.
In a barn one night, the Hawaii POWs stayed up late, talking about the food they enjoyed back home in Hawaii. "Fish cooked with shoyu and sugar, barbecue meat and so on," said Akita. "We felt full just by swallowing our saliva. Also, we talked about how our parents were going to take it when the War Department sends a telegram stating that I've been missing in action."
The next evening, German officers interviewed the prisoners two at a time in a dimly lit room, asking the Japanese Americans a lot of questions: What did Buddhism teach? Why were they fighting so hard for America?
"Do you feel like an American?" asked the German officer.
"Yes," Akita replied.
"Did you know a cat born in the fish market isn't a fish?"
"Yes, but he belongs to the fish market," Akita responded.
As their transfer to Germany continued, the men noticed that the German guards appeared to be getting older and grayer by the mile. The freezing-cold conditions added to the misery of the tired and hungry prisoners. "Ice box" is how said Oscar Miyashiro described his teeth-chattering experience far away from warm, tropical Hawaii.
After stopping at the border towns of Colmar and Strasbourg, the POWs boarded a train to Stuttgart, where they were housed in a horse stable. There they received their first American Red Cross food parcel. It contained five packs of cigarettes, a can of powdered milk, a candy bar, one can of margarine, a can of meat or fish, a package of M&M's candy, a package of crackers and a box of diced fruits. Each of the Americans was given one parcel per week, which was intended to hold them over until the next week, although Akita said the contents could easily be consumed in a few days. In order to stretch the food over six days, six prisoners divided one parcel among themselves every day and saved a little for their Sunday "dinner."