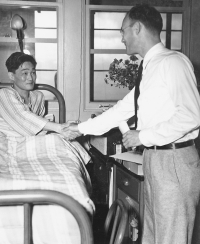 In 1947, Yost was asked to come to Hawaii when the bodies of the 100th Battalion soldiers who had been killed in action were repatriated from Europe. He conducted memorial services on Oahu, Kauai, Maui and Hawaii island and met with their families. Yost also spent his time in Hawaii visiting with the soldiers who had been injured or disabled during the war.
Yost resumed his Lutheran ministry and, in 1951, was named pastor of St. John's Lutheran Church in Phillipsburg, New Jersey. In 1962, after 11 years there, he decided to resign. Although he could have continued as a high school teacher in Maryland or Virginia (which he did in addition to his church work), he desired to make a change. Although he had no job secured in Hawaii before he left New Jersey, he was confident that as a secondary school teacher certified in several subjects he would find employment and, with time, even a pulpit. When Yost contacted his former battlefield partner, Dr. Katsumi Kometani, Kome replied, "I guess 13 more people won't sink this rock."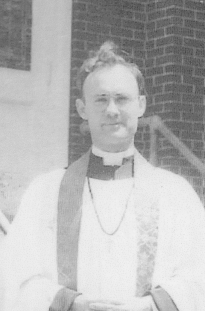 Yost, his wife, and their eleven children flew to Hawaii on July 19, 1962 and were put up in the club-owned apartments for three weeks until they bought a house. Yost's eldest daughter Monica remembers the members of the 100th gave the family a "wonderful welcome." Monica also recalls: "In the first days after our arrival, the veterans made sure that there was always someone to drive my parents to places they needed to go" until the Yosts bought a used car. She added: "We remember the Teruyas were very kind in giving us bags of groceries during our first days there and in hiring my two teenage brothers as bags boys at the supermarket they owned. Club 100 always invited us to their events, and individual families befriended us, especially some who had children the same age as the younger children in our family. Dr. Kometani provided us free dental work during our entire stay in Hawaii."
Over the next three years, he taught at Kailua, Radford and Waianae high schools on the island of Oahu. He also sought out a pastorship at a local Lutheran church and was appointed pastor of St. Paul's Church in Kaimuki. Yost also established a new church in Waianae, Maluhia Lutheran Church, which is still in existence.
By early 1966, Reverend Yost and his wife decided to return to the mainland because four of their children had moved back there and they had elderly parents who needed care. They settled in Baltimore, Maryland, where he was named pastor of the Prince of Peace Lutheran Church. During this period, he actively advocated for fair housing and civil rights and would not allow any of his children to use public swimming pools unless they were fully integrated. He also spoke up for an AJA family that had been denied the right to buy a house in a white neighborhood in Harrisburg, Pennsylvania.
Always restless and interested in new things, in 1975, he and Peggy moved to Papua New Guinea, where, over a two-year period, they developed a literacy program for the Wabag Lutheran Church.
Yost retired from the ministry in 1981 and continued living in eastern Pennsylvania, working as a high school substitute teacher and serving on the local board of directors of the American Red Cross. He also volunteered his time as a chaplain at the county jail, where he helped prisoners prepare for their general education diploma (GED) equivalency exam. In 1994, he and his wife moved to Frederick, Maryland to be closer to several of their children.
He would visit Hawaii and the men of the 100th in 1983 and again in 1992, when he was invited to speak at Club 100's annual memorial service.
The war never left Israel Yost. As he grew older, he suffered from dementia related to Parkinson's disease. One night while he was sleeping, his family heard him cry out words that he had often used on the battlefield: Medic! Medic!
Israel Yost — the 100th Infantry Battalion's chaplain — died on June 25, 2000, at the age of 84.
In the 1980s, he had spent several years writing his memoirs, which were published in the book, "Combat Chaplain: The Personal Story of the World War II Chaplain of the Japanese American 100th Battalion," by the University of Hawaii Press in 2006.
— by Michael Markrich
Michael Markrich is a Honolulu-based researcher, writer and editor. He and Monica Yost, the eldest child of Chaplain Israel Yost, co-edited her father's memoirs.
In 2019, Israel Yost, son of Chaplain Yost, sent copies of his father's papers which included baptism, burial, casualty, and chaplain reports. The 100th Infantry Battalion Veterans organization funded the digitization of these papers so they could be added to the collection of Chaplain Yost's papers in the University of Hawaii at Manoa's Japanese American Veterans Collection. These reports can be found at: http://evols.library.manoa.hawaii.edu/handle/10524/11830