In November 1943 his turn came. While working at the aid station, he received word that a doctor was urgently needed atop one of the hills overlooking the Italian village of Pozzilli. Doctors were not normally sent to frontline combat, but Kawasaki insisted on going. As he was walking up a path, a 100th soldier stepped from the bushes and motioned him to be silent: there were German Tiger tanks directly below. The tank crews saw him at the same time and began firing 88-mm shells. He suffered a severe injury to his left leg and passed out from the lack of blood. Kawasaki woke up on a surgical table and told the doctor, "for God's sake, don't cut off my leg off," before passing out again.
The doctors listened. Kawasaki kept his leg and was able to recover enough to walk with a cane and be reassigned as a doctor to Kennedy General Hospital in Memphis, Tennessee. After he had completely recovered, he volunteered to join the 133rd Evacuation Hospital in England as an orthopedic surgeon. He landed with the hospital team on the beaches of Normandy on D-Day, June 6, 1944.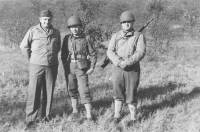 After the landing, he was assigned to General George S. Patton's 3rd Army. One day, General Patton saw him and asked: "Were you in the 100th?" When Kawasaki said yes, Patton invited him to dinner and spent the evening asking him about the 100th Battalion, which by then was one of the most famous units in the U.S. Army.
Kawasaki followed the 3rd Army through France, across the Rhine River and into Munich. From there the 3rd Army kept moving east and as they neared Linz, Austria, on May 8, 1945, the last day of the war, they liberated Mauthausen, one of the largest concentration camps in Austria. There he walked through the gas chambers, the crematoria where the bodies were burned, and the trenches where the remains were buried. Of the Holocaust, Kawasaki told Okihiro, "I don't think they could ever exaggerate it."
By that time, Kawasaki was a Major in the Medical Corps and was sent home to Schofield Barracks to be discharged. He had no idea what he was going to do, because he remembered that after what he had seen, "life as a pathologist seemed boring…. I decided that I would have to start my life all over again."
Kawasaki retired from the Army as a Lieutenant Colonel in 1946. He became a general practitioner and family doctor in Honolulu and an active member of the Honolulu medical community. He was president of the medical staff at Kuakini Hospital from 1957-1958 and later chairman of Kuakini's Department of Family Practice for eight years, beginning in July 1972. Kawasaki was also a member of the Board of Directors during two time periods, the last until 1989.
He married in 1971 and was appointed to the Board of Health by Governor John Burns in 1973. No longer a specialist, Kawasaki became part of the generation of general practitioners who were forced to give up their hospital privileges at Kuakini to the specialists. He maintained a private practice and eventually worked part time as a doctor until he retired. He died on May 18, 1994.
Clayton Yamada was a young family friend to whom Kawasaki was a second father. They spent nearly 20 years together. Yamada recalled that the "Doc" had two passions in life other than medicine – golfing and fishing in his 24-foot boat. "I often saw the big scar on his left calf from the war because he wore shorts on the boat. It was very bad. But he never complained. He was a very upbeat person who loved life, loved a good joke, loved to fish and loved to golf. He never mentioned the war except about once or twice to tell the story about General Patton."
—by Mike Markrich
Michael Markrich is a Honolulu-based researcher, writer and editor. He and Monica Yost, eldest daughter of the 100th Infantry Battalion's wartime chaplain, Israel Yost, co-edited her father's memoirs, which were published in 2006 by the University of Hawaii Press as "Combat Chaplain: The Personal Story of the World War II Chaplain of the Japanese American 100th Battalion."