Affectionately known as "The Old Man," Turner was 48 by the time the battalion landed in Italy. After about a month in combat, however, he had to be evacuated because he had lost all feeling in one of his legs. He was relieved of command on October 29, 1943, and was replaced by Major (later Lieutenant Colonel) James L. Gillespie as Maj. Lovell was in a hospital recovering from his wounds.
In Honor by Fire, renowned wartime correspondent and author Lyn Crost shares a quote from the 100th Battalion Journal: "Col. Turner's relief was a cruel blow to the officers and men. In sixteen months he had organized, trained, and led the 100th in combat, exemplifying the highest qualities of a leader. Ever-mindful of the welfare of his troops when they were committed, his thoughts were first and always for them."
Isaac Akinaka concurred, noting in his journal: "The lives of his men were The Old Man's first concern. He told me once when we were caught in an enemy artillery barrage: 'Dump that radio off your back and take cover! We can always get another set but we can't replace you!' No wonder the men loved and respected him!"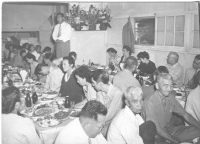 Turner returned to Honolulu in May 1944 and resumed his post at Lewers & Cooke. In an article written by 100th veteran and historian Ben Tamashiro, Turner's wife Helen recalls, "… The boys who were coming back kept dropping in to see him. And my husband went to all the other islands talking to parents and friends of the 100th. Baron Goto was his interpreter. My husband even got to learn a few Japanese words!"
As vice president and treasurer at Lewers & Cooke, Turner worked closely with many of the contractors in town, and—a world away from the battlefields of Europe—he continued to help his men in any way he could.
Veteran Tad Kanda recalls how Turner helped him after the war. He said when he got back to Honolulu, he needed to repair his family home but had difficulty getting any building supplies. He called Turner. The next day, a truck full of materials showed up at the house.
Kanda also said that Turner encouraged him to apply for a job at the company, saying it needed men like him. An interview was set up. At the beginning of the interview, the personnel man told Kanda that they had a different wage scale for non-white people. Kanda replied that he didn't want to work for a company like that and walked out. Later, when Turner called and asked him about the interview, Kanda told him about this remark. He said he found out later that Turner went down to the personnel department and the "fur flew."
In 1953, President Dwight Eisenhower appointed Turner to the position of Secretary of the territory of Hawaii, a post he held until 1958. That year, Turner ran unsuccessfully for the office of Delegate to Congress against John A. Burns. After his loss, Turner was appointed manager of the Honolulu office of the Small Business Administration. He died within a year later while in that office.
In 1959, Fundee Shirai, the editor of the Puka Puka Parade newsletter commented, "Of all the mementos and honors the Old Man gathered as our C.O., there was one that he cherished above all else: the Combat Infantryman's Badge. I think it meant a great deal to him not so much because he prided himself as a 'field general,' but because it was a symbol of all the experiences he shared with his men."
Turner's son, Albert "Bert" Turner, reinforces that sentiment in an essay he wrote for "Japanese Eyes, American Hearts: Personal Reflections of Hawaii's World War II Nisei Soldiers." He stated: "I suspect that losing men who meant so much to Dad had an impact on him as well. Each man in the 100th was special to him and the losses the battalion experienced had to be very difficult for him. In the years after the war, I well remember the tears streaming down my dad's cheeks when we would talk about the battalion and the many fine men who lost their lives. The 100th Battalion was the most important thing in my father's life."
"The Old Man was a great man," Shirai concluded in his article. "He was great because he believed in certain things so strongly that he was willing to lay down his life for them. I think he was great because he had the faith that things like truth, loyalty and kindness are not matters of the skin, but of the heart."
Consider the remarkable life of Lt. Col. Farrant L. Turner and, perhaps, "love" will no longer seem such an odd word to describe a great military leader. Is it not, after all, the most powerful emotion that humans can possess?
-by Arnold Hiura
Arnold Hiura is an independent writer, editor and media consultant based in Honolulu. He has been editor of the Hawaii Herald and curator for the Japanese American National Museum in Los Angeles, CA.
Read for an interview by Ben Tamashiro of Mrs. Farrant Turner. She recalls her life during the war years as an army wife and provides some interesting information about post war Hawaii.