Soon after traversing the bridge, the men reached a graveyard. Again, the shelling caused the men to dive helter skelter. Sumida recounted with admiration how Maj. Lovell simply stepped forward, drew his pistol, started firing toward the point where mortar fire was originating, and led the charge up the hill.
Lovell paid dearly for his courage, having been severely wounded several times. He was hit in action near Alife and was in the hospital when Col. Turner was relieved of his duty and sent home. Lovell recalled that one of the metal fragments from a Screaming Meemie severed an artery in his upper thigh. Doctors tied off his artery and hoped that circulation would restore itself. He could have easily contracted gangrene and lost his leg if it had not.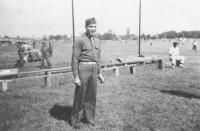 Other men were quick to describe their experiences with Lovell. Warren Iwai recalled the especially brutal fighting at Cassino: "I believe Maj. Lovell was our battalion commander at the time. This was our second attack at Cassino. We were attacking toward the castle. Our company (C Company) was leading this column in the attack. We were under the cover of smoke shots. I was the point at that time. As I approached towards the castle, I saw a silhouette of a soldier in front of me. I thought, 'What the heck? Who's this soldier in front of me?' There's not supposed to be anybody in front of me except for the enemy! As I approached him, it was Maj. Lovell… and he was our battalion commander! What army in the world would you find the battalion commander in front of the point man in the attack? Let me tell you, you won't find anything like that in any other outfit, where you'll find the battalion commander out front like that, worrying about his men…"
Mike Tokunaga concurred with Iwai, and cited at least three occasions where he saw Lovell fighting on the frontline. "Maj. Lovell was supposed to be in the back, at battalion headquarters, but he was right up front, in front of the combat guys."
"(At Cassino), he was crawling across a terrace when the German machine gun hit him. We thought he was dead, because after he was hit, he didn't move. (But) I think what he did was make the Germans think he was dead because he was in a wide open area. I remember that after darkness fell, we had to go pick him up, and he was breathing!"
Lovell himself recalled that incident at Cassino, "I had four or five holes in me …took a long time to get out of there that night, to the hospital." The bullet to his back was lodged about 1/8th of an inch from his spine and could have paralyzed him. The bullet to his leg had crushed his calf bone. Lovell was sent home on Feb. 8, 1944, having been awarded: Purple Heart with cluster, Silver Star, Bronze Star with cluster, American, African, European and Asian Theater Medals, Victory Medal and Combat Infantry Badge. He had served as battalion commander for just a short period at Cassino between his injuries.
Settling back to civilian life in Honolulu, Lovell worked his way up from manager of the lumber and merchandise department of Lewers & Cooke to the position of president. He retired from Lewers & Cooke after 27 years and took a post as executive director of the Wood Products Association of Hawaii. Lovell was also active in the Republican Party and church affairs.
Through it all, Lovell's commitment to and concern for the veterans did not wane. He served as president of the Club 100, the battalion's post war organization. The men also entrusted Lovell with the responsibility of having their history written and building erected. He served as chairman of the 100th's historical committee.
In January 1945, a group led by Robert Murakami formed the Hawaii Veterans Memorial Fund to accept the return of assets frozen by the Alien Property Custodian. The Veterans Memorial Fund, which also provided scholarships and other services to veterans, arranged for the Club 100 to acquire the old Japanese YMBA property on Fort Street near Vineyard Boulevard. After less than a year, the club obtained permission to sell the property. Lovell took the income from that sale and bought three lots on Kamoku Street. He also served as the chairman of the building committee. The completed clubhouse was dedicated on the club's 10th anniversary in 1952.
James Lovell passed away on April 15, 2001, at the age of 94. The respect that the men of the 100th hold for him, however, shall always remain. One veteran said, simply, "You won't find a single man with anything bad to say about Jim Lovell…" Which is, when you think about it, the kind of epitaph that would have pleased the Major.
-by Arnold Hiura
Arnold Hiura is an independent writer, editor and media consultant based in Honolulu. He has been editor of the Hawaii Herald and curator for the Japanese American National Museum in Los Angeles, CA. This article is based on a 1992 article that this author wrote for the Hawaii Herald.