Headquarters Company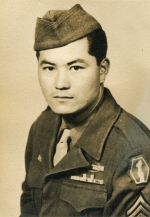 Born in Kapaa, Kauai in 1918, Hidenobu Hiyane was the fourth of eight children. In 1925, the family moved to Oahu to raise pigs, first in Kapahulu, then in Wailupe. After Hidenobu graduated from McKinley High School in 1937, he took a job fixing and selling radios at Standard Sales in downtown Honolulu.
In 1941 he was drafted into the army, and three weeks later war was declared on December 7, after the attack on the Pearl Harbor naval base. Initially he was assigned to E Company, but as the casualties increased in Italy, E and F Companies were disbanded and the remaining men assigned to other companies of the battalion. Because of his radio knowledge, he was assigned to Headquarters Company as a radio operator. His experiences in the war made him forever grateful for everything else that happened in his life.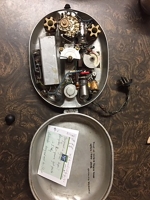 While he was in Italy, Hidenobu designed and built a radio from an Army-issued mess kit with parts that a friend, Akiyoshi Kuriyama, a sergeant in the Signal Corps, gave him. He said he was able to listen to Axis Sally's German propaganda telling them to go home.
After the war he went to Chicago to study radio/electronics on the GI Bill. There he met and married Hisae who was from Waipahu on the island of Oahu. Together they returned to Oahu in 1948. He began working for the Army at Helemano Receiver Station, monitoring and repairing teletype equipment for government messages between the mainland and American facilities in Guam, Japan and the Philippines. He retired in 1973, then worked twelve years for the Salvation Army as an electronics repair person/trainer.
Today (2019) at 101 years old, Hidenobu still maintains his HAM license and often does Morse Code to Word search puzzles. He has two daughters and three grandsons.
(Submitted by his daughter Joyce Walters.)
April 2023 note regarding photo on the 6th row, left: Luciano Bucci, president of the Winter Line Venafro Museum (www.winterlinevenafro.it) contacted the 100th office. As he has done extensive research of the battlefields in Italy, he noted that the location is incorrect and should be Monte Vischiataro. He wrote that the 100th was engaged in the battle of Monte Maio at this time.